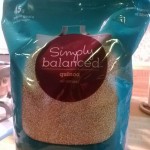 Chicken and Quinoa Casserole is a healthy replacement for the cheesy, high calorie Mac n Chicken lots of families love so much. Very similar to the Chicken and Rice casserole everyone is familiar with, making a few easy changes turns this simple meal into something better for you, and makes great leftovers, too!
Basics:
Prep Time: 10 minutes
Cook Time: 15 minutes
Servings: 4
Difficulty (1-10):  5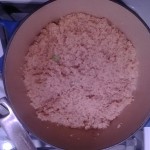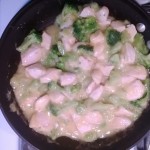 Ingredients:
2 chicken breasts, thawed and cubed
1 can Campbells Healthy Choice Cream of Chicken Soup
1 cup frozen broccoli
1 cup uncooked quinoa
2 tablespoons olive oil
Salt and pepper
Instructions:
-Bring one cup of quinoa and two cups of water to a boil, adding a small amount of salt
-Simmer for 10-12 minutes or until you can see the germ separating from the seed
-Heat oven to 375
-Brown cubed chicken over medium heat with olive oil
-Completely thaw broccoli and mix with browned chicken.  Using frozen that isn't thawed can make the mixture watery.
-Pour cream of chicken soup over chicken and broccoli, heat
-Mix cooked quinoa into casserole then add in chicken, soup and broccoli, stir
-Top with low fat cheese if desired, season with salt and pepper as desired
-Heat in oven for 10 minutes or until cheese in bubbling
Let stand to cool, serve and enjoy!