Here's a simple, healthy recipe for a Mexican flavored Spicy Chicken and Rice bake that's sure to please the entire family.
Spicy Chicken and Rice Bake
Basics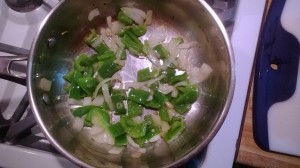 Serves: 2-4
Prep Time: 20
Cook Time: 45-50
Difficulty (1-10):  5
Ingredients:
2 to 4 boneless, skinless chicken breasts

1 15-ounce can black beans, rinsed and drained
1 14.5-ounce can diced tomatoes, undrained
1 cup tomato juice
1/2 cup chopped onion
1/2 cup chopped green sweet pepper
1 cup frozen whole kernel corn
1 cup uncooked brown rice

1 packet low sodium taco seasoning
1/2 teaspoon salt
Instructions:
1.  Thaw and skin chicken, set to side
2.  Preheat oven to 375
3.  In large saucepan, cook onion and sweet pepper in hot oil until vegetables are tender

4.  Add black beans, corn, tomato juice, taco seasoning, uncooked rice and salt.  Bring to boiling.
5.  Place rice mixture in 3 quart baking dish.  Arrange chicken on top.  Top with desired seasonings.
6.  Bake covered for 45-50 minutes or until chicken is cooked through and rice is tender.
The best thing about this delicious recipe is the ability to add, change or remove flavors you do, or don't, enjoy.  Try adding garlic, hot peppers or using a hot taco seasoning to increase the heat.  You can also use wild or long grain rice to mix it up.  A hint of Mexican at home, this Spicy Chicken and Rice bake is an easy to prep, quick to cook, low fat, freezable and totally customizable recipe for every house.
What are you favorite Mexican inspired dishes?  How much heat do you like in your meals?