Your feet do lots of work every time you take a step.  Strong feet provide a strong base for every landing and takeoff your leg will need when you walk, jog, run, sprint or skip.  The 33 joints, more than 100 ligaments and 26 bones in each foot help you balance, engage your core and maintain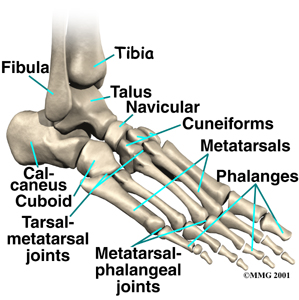 proper posture.  But strong feet aren't everything.  They're not much good if the ankles they're attached to aren't strong, too.  Increasing the strength and stability in your feet and ankles will make you a better athlete regardless of your chose sport.  Here are three ways you can start working towards strong feet and ankles today.
Take your shoes off and practice standing on one foot.  Work until you can get to at least a minute without a wobble then try it with your eyes closed.  Practice keeping your big toe flat and foot long to exercise the foot's muscles.  This will help develop balance and the strength of the tendons and ligaments that support your ankle as well.  You might be surprised how hard this is on your first try but it can quickly improve with a little work.
Spend as much time as possible barefoot and in flat shoes.  This will not only help you earn strong feet but improve balance and running efficiency.  Wearing a thick sole between the foot and the
ground prevents you from feeling what's going on beneath your step.  This ends up making us all very visually dominant for feedback on what's happening on the ground and that is a very slow process.  By not wearing shoes to earn strong feet you can increase your foot's ability to respond to the ground it touches, even with a shoe on, making balance better and helping protect you from potential injuries.
Strong feet need to be taken care of, too.  Rolling the muscles of your feet on a golf ball, lacrosse ball, Trigger Point set or softball can keep them soft, flexible and relaxed.  After a hard foot workout of barefoot jump roping, sand running or balance work, massage allows blood and oxygen to start helping muscles get stronger by healing.  Remember that each step you take starts at your foot and rolls up through the rest of your body.  Taking good care of your feet can help keep all of your other muscles happy, too.
Start trying to stand on one foot while you brush your teeth and the other while you brush your hair, work on not wearing shoes at home and give them a little extra care each night to have strong feet that can carry you anywhere.
Coach Meredith