Tin foil chicken and vegetables is a fantastic week night meal.  This recipe is quick, simple, good for you and delicious.  It's easy to mix up the dish's flavors by simply switching out one or two ingredients.  Using the ingredients below, each serving is home to less than 300 calories, packed with muscle building protein and very filling.
Tin Foil Chicken and Vegetables
Servings – 2-4
Prep Time – 10 minutes
Cook Time – 30 minutes
Difficulty – 1
Ingredients
2-4 boneless, skinless chicken breasts (to lower cook time, divide into sections)
1 cup frozen corn (thawed)
2/3 cup black beans drained and rinsed
2/3 cup halved cherry tomatoes
1/4 cup diced green pepper
1/4 cup diced yellow onion
1 Tablespoon extra virgin olive oil
2-4 Tablespoons taco seasoning
2-4 teaspoons cayenne pepper
2-4 large squares of tin foil
Instructions
Pre-heat oven to 375.
Add olive oil, peppers and onion to sautee pan and cook until onions start to become clear.
Place each chicken breast in center of one tin foil sheet.
Season chicken with taco and cayenne powders.
Top each chicken breast with tomatoes, corn, black beans, green pepper and onion.
Fold tin foil into packet around chicken with small opening to vent.
Place in oven for 25-20 minutes or until juice runs clear.
Serve by carefully opening foil packets and pouring chicken, vegetables and juice onto a plate.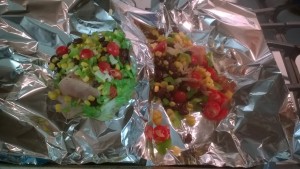 This simple chicken and vegetables recipe can be switched up for winter by adding squash and carrots or swapping out taco flavors for basil and thyme.  You can see how the calorie count would change when plug in your choice of ingredients in here.  Use fresh vegetables for a colorful and delicious meal that's great all year long, very easy to cleanup and won't take away from family time.  Give this tin foil chicken and vegetables recipe a try.
I love it and know you will too!
Coach Meredith