It's Week 3 of marathon training and things are rolling along nicely. I'm feeling good after two weeks of increasing mileage and have two more to go before a down week. One thing about this year's most ambitious training plan yet is that I'm tying it to my Unbeatable Mind training. While I am far from unbeatable yet, I am seeing and feeling some big differences from how I felt last year early on.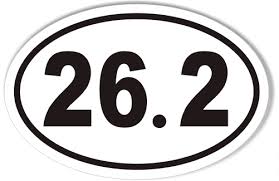 Even with more miles on the calendar each week I'm more relaxed and flexible about what's coming my way. I'll get the miles on the treadmill if I have to, in the middle of the night if I have to and at the end of the day, it's all going to be fine. Unless, of course, I get injured.
Which I might be on my way to but hopefully not. I've had some funkiness going on with my right ankle or glute or Achilles that I warm up out of some days. It's definitely muscular and I'm trying different things to see what shakes it out the fastest. Extra glute activation during my warm up, extra stretching of the calves and sometimes just loosening my shoe lace for a minute all help. I'm making a big effort to listen to my body and figure out what it needs.
That's how I can tell my Unbeatable training is making a difference. I'm not freaking out. There's no desperate search for a quick fix. I have a long way to go in both marathon training and mind training. I'll get to the finish but I want to be injury free when I arrive. For now I'll pay close attention to what works best to get me going on each run and stick with it.
Meredith
Do you ever over reacted to or ignored to a potential injury and what helps you be Unbeatable?