Fried chicken is delicious, but it's not very healthy.  Not Fried Chicken Strips are not only not fried, they aren't the least bit greasy, the chicken stays incredibly juicy and you can flavor them to whatever you're in the mood for by adding seasonings to the bread crumbs.  This is my recipe for breaded, not fried chicken strips, which taste wonderful and make sure the meals on my table are pretty good for me.  Sometimes I'll chop it up and put it on a salad, but tonight I just dipped it in ketchup and munched away.  I also took mashed potatoes out of the freezer, steamed a little broccoli to dress up my plate and had a good for me dinner that was quick, simple and tasty.
Basics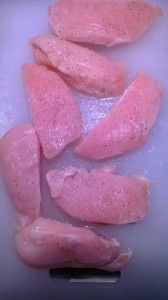 Serves:  2 – 4
Prep Time: 10 minutes
Cook Time: 15 minutes
Difficulty: 3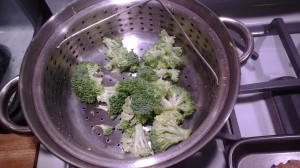 Ingredients
1 1/2 pounds boneless, skinless chicken breasts
2 large eggs, beaten
2 cups seasoned bread crumbs
1/3 cup all purpose flour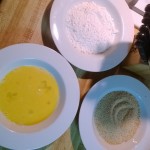 Instructions
1) Preheat oven to 375, grease baking sheet
2) Place rinsed broccoli in steamer, bring water to boil and leave on low heat
3) Season chicken with salt and black pepper, season bread crumbs with salt and black pepper in shallow dish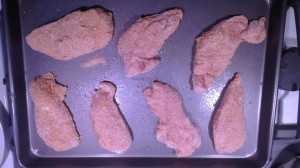 4) Place beaten egg in a second shallow dish and bread crumbs in a third
5) Coat chicken in flour, shaking off any excess
6) Dip floured chicken strips into egg then finish by dipping in bread crumbs
7) Place breaded chicken strips on baking sheet and bake for 13-16 minutes, or until golden brown
8) Check broccoli and remove from heat or continue to steam to taste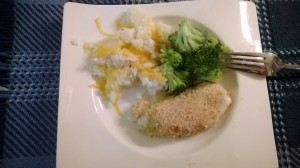 There you have it!  Quick, easy and healthy, Not Fried Chicken Strips with Steamed Broccoli is a great week night meal that makes good leftovers for lunch.
Meredith
What are your favorite quick, weeknight meals?