Happy Thanksgiving!
A great day to spend with family and friends, this Thanksgiving was also about getting started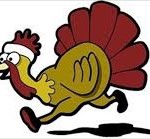 with a few things around the house.  It's a lovely day, in the mid-30s but not very windy with beautiful, clear skies.  Perfect Turkey Trot weather!  Doug and I started the day with a big group run on the Boardwalk that finished with a delicious breakfast buffet and lots of friends.  With no set course or distance, runners and walkers were able to go as far as they wanted, or stay as close to the food as possible, and I ran a nice little warm up before getting started with a four mile race pace run that went really well.  Light gusts of wind were nothing compared to last time out there, making my run very consistent in both directions and me a happy trotter.
The Turkey Trot also kicked off my attempt at the Runner's World Holiday Streak.  With the goal of running at least one mile every single day between today and January 1, 2014, I should be able to make it.  It'll be pretty bad news if I can't manage to find ten minutes to jog a mile during each day.  This Boardwalk run was a great opportunity to get started looking for things on 'the list'.  'The list' refers to the ten things I need to find for entries into RunChat's Holiday to Holiday Scavenger Hunt, and I got four checked off.  Pictures of a Port-a-Potty, a body of water (the Atlantic Ocean), inflatable decorations and a mile marker got my search goin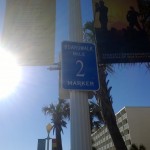 g and I know I'll wrap it up before the hunt ends on Christmas.  (As a side note, I don't usually run with my phone/camera and I did not find it bouncing around in my pocket enjoyable.)
Two other things I've started aren't particularly running related.  Saturday is GoRuck Light and I'm starting to get all of my gear in order.  Even though it's only a five hour adventure, I'm packing like it might never end.  With temperatures hovering around 40 degrees, stiff winds and the potential to get wet, extra socks a plenty are definitely getting stuffed in.  Peanut M&Ms, a few protein bars, an ample supply of water and two bricks will accompany the socks in my Echo, though I'm sure I'll find a few other things to carry, too.  I'll be reviewing the event just like I do all of my races, so stay tuned this weekend to get all the details.
It's been a while since I've reviewed a book, but I'm fixing that by getting started with a brand new one this week.  The Eighty-Dollar Champion by Elizabeth Letts is the story of a horse headed for slaughter who was rescued and inspired a nation.  I'm about twenty pages in and really enjoying it.  A true story, Letts has so far done a great job developing the story with historical details and building attachment to the few characters I've been introduced to in those first few pages.  I look forward to reading more and learning all about this surprising animal.
Now it's time to watch a little football while getting started with dinner.  Have a wonderful holiday!
Meredith
What have you started lately?  Are you reading something good?