I ran the 2014 Heart of Ghent 10k on September 20 and had a great time.  It was the third year Mettle Events has put on the race and they did a wonderful job.  I don't run 10k's frequently, so I looked forward to this change in distance as well as the chance to hit a new PR.
Race Morning dawned cool and early as Doug, who was also running as a tune up for Myrtle Beach, and I chowed down some breakfast and fueled up with waters and E2s.  We had opted for Race Day packet pick-up and got to the race location about an hour before the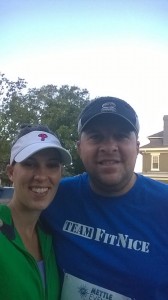 Start.  Parking was a breeze.  Plenty of it, all free!  We acquired our gear, pinned on numbers, took a short walk to the ample number of line-less Port-a-Potties, came back and snapped a pre-race selfie then he did an 800M warm up and made for the line while I wrapped up my mile with three strides.
We exchanged good lucks and I went to the front.  The field looked fast and even if I was going to get passed, I didn't want to get clogged up in a group of walkers with a turn coming quickly after the Start.  I chatted with several friendly men and women as we waited for the National Anthem to play then waited again for the roads to finish clearing.  After a very short delay, we were off!
As the lead group took off, it felt like I got passed by 15 women.  I knew the field had looked fast!  Not wanting to sacrifice my entire race, I quickly settled into running my own pace and decided to pick off the ladies in front of me when I had the chance.  Coming into the Mile One mark, two ladies passed me but I did a great job of sticking with my own pace and running my race rather than chasing too soon.  At the Mile One mark, my watch unsurprisingly read 2.08 miles.  I had done an exactly 1.00 mile warm up so I knew my watch would be at least one mile ahead of any course markers and I had taken the middle of the road around the first few turns which left me expecting to have covered extra ground.
At some point between the Mile One and Mile Two markers there was confusion as to where the runners should be directed and I'm not entirely sure a bunch of us didn't run around an extra block.  This didn't change the fact that was I was feeling very positive about the performance I had started to put together but really threw me for a curve when I arrived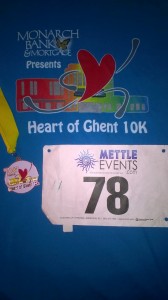 at the Mile 2 mark with my watch unexpectedly reading 2.88.  I had tried to hug the curves in the previous section to make up for the possible extra distance but this was much more than I expected.
Around Mile Three the cool morning started to warm up.  We hit some wide, tree-less stretches and the sun was full of shine.  In spite of the warmth, I felt nothing like I did at the Bay Days 8k and maintained a steady pace for the entire race.  A long, softly bending curve past the Mile Four mark gave me the chance to gain a bit on the two women I had been keeping an eye on for the beginning of the race.  I took a straight line from one edge of the curve to the other while they both stayed in their lanes and bent with it.  Straight line, short distance let me be able to pass the first of these two ladies before Mile Five with the second in easy striking distance.
I passed the second woman I'd been tailing at the top of the Mile Five bridge climb and took note of how far in front of me the next woman I had a shot at was.  Far.  I counted the seconds between her turn and mine before determining that I wouldn't be able to catch her in 1.5 miles.  I was OK with my positioning coming into the last bit of the race knowing I was going to PR and put together a run I was going to be very happy with.  Coming down the bridge I was fortunate to come upon a pair of gentlemen to chat with for about 400M before finally passing at the Mile Six mark and could again see the un-catchable woman in front of me.
I knew I was in a good spot for the last 400M and like the Bay Days 8k earlier this month, the Finish line was hiding 50 or so meters from a 90 degree turn which prevented me from being able to leave it all out there and come in a few seconds faster.  When I crossed the Finish, my watch read 7.10 miles and 51:32.  Subtract my 8:04 warm up and I was right there with a new PR of 43:28.  Sort of.  The course wasn't certified and I clearly didn't cover the required 6.2 miles.  Even if you add the 41 seconds it would have taken me to run that additional 0.10 mile, I still would have beaten my last 10k time by over two minutes.  I collected my medal, two bottles of water and knew I had about 15 minutes before I needed to be looking for Doug.  I loosened my shoe laces and a nice post-race running recap with Claire, the woman who had been just out of my reach for the last two miles.
Doug crossed the line happy with his time and we hit the after party.  Tasty pizza was flowing compliments of Y-Not when we hopped into a long line for beer.  The line moved quickly and Doug and I each received two complimentary beverages with the option to purchase additional tickets.  At that point we tuned into what the announcer was saying.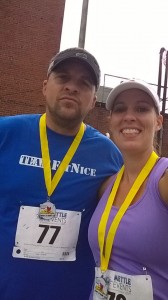 We could scan the QR code hung up at various points around the party zone to check our results.  Well, I didn't have a QR reader app on my phone and apparently picked the wrong one to download on the spot because I was unable to access my results even after scanning the code.  We would just have to wait and see if my performance had been good enough to earn an award.  No big deal, we had cocktails.
We settled down on a grassy spot, stretched some, chatted with our fellow runners and enjoyed our adult sodas when I noticed things in the party zone had quieted down a bit.  Awards Ceremony!  Because I hadn't been able to get results on my phone, I didn't know if I needed to be there.  Luckily for me, I did.  Even though I had felt like 15 ladies had passed me at the Start, I discovered I was 6th female overall and won my age group!  The award is a
print from Brandon Foster-Gray, a beautiful photo of the Brambleton Bridge in historic Ghent and a gift certificate to Running, Etc.
2014 Heart of Ghent 10k recap loose ends:  The flat course is fast in spite of all the turns, the after party was a blast, the bands at each mile were great, the awards ceremony was nicely done and the awards are super cool.  It's a small local event with a friendly family feel, solid organization and wonderful sponsors.  The Norfolk Police Department did a good job of managing the traffic trying to cross the runners paths and I did notice several Port-a-Potties lining the course.  There were two well staffed water stops though some people mentioned the second one could have come sooner.
I had a fantastic 2014 Heart of Ghent 10k Race Day and will definitely consider running it again.
Meredith
Did you run the 2014 Heart of Ghent 10k?  Do you like the 10k distance?