The Blizzard of 2014.  The Polar Vortex of 2014.  Call it what you want, but it's been cold and snowy for lots of people all over the U.S. the last few weeks.  It's been ridiculous around Virginia Beach.  School's been out for two days, and it's unlikely they're heading in tomorrow as well.  The reason for this better-to-stay-home-than-brave-the-roads attitude is almost understandable.  Driving on unplowed, untreated roads with a bunch of people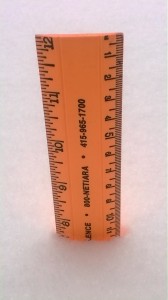 who don't have a clue how to operate a motor vehicle in slippery conditions is a recipe for disaster.  The number of people scooting around town with snow piled on the roof, hood and trunk of their car is plain old scary.  Please, stay home.
While the less than perfect driving conditions have been sensationalized here in the 757, outdoor running conditions haven't.  Running in the snow can be dangerous, too.  Very dangerous.  Here are seven tips to help keep you safe when you have to, or want to, go for a run in the white stuff.
Slow down.  You won't want to run your usual pace in slippery conditions because it's harder work.  Much like running in sand, muscles in your inner and outer thighs that don't work very hard on solid ground will be pulling overtime, making you feel fatigued sooner.
Use trail shoes, spikes or Ice Grippers.  Making sure your shoe has ample traction is incredibly important.  Good treads, spikes or ice grippers add traction to each footfall and mean you're less likely to slip, slide or take a spill.
Two pairs of socks.  If you're heading out in the snow, you've probably already faced the fact that your feet might get wet.  Help keep them warm and dry with two pairs of sweat wicking socks.  Make sure your shoes still fit with an extra pair, but don't be afraid to loosen your laces.
Change your stride.  A shorter stride will help you balance, lowering the risk of slipping and falling.  You can also improve balance by making sure your foot lands directly under your hips.  This increases the surface area of your foot that touches down and better stability.
Find fresh snow.  At least snow that's crunchy.  Plowed, packed snow is much more difficult to navigate that fluffy stuff that helps you grip.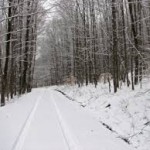 Think with your eyes.  You want to be seen, so dressed in brightly colored clothing and wear a safety vest or reflectors.  You also want to avoid potholes and icy patches, so be sure to constantly scan your surroundings.
Focus on effort.  It's hard to run adjust your stride and run in snow.  Be sure to account for the extra work your muscles are doing when you choose how far or how long to run.

The Blizzard of 2014 is over (hopefully) and running in snow won't be an issue for much longer, but take these seven tips to heart and stay safe the next time you have to, or want to, go out for a run in the snow!
Meredith
How do you feel about snow?  Has the Blizzard of 2014 messed with your training schedule?