Doug and I attended a Wine Tasting and Information Session with the National Kidney Foundation last night and we had a great time.  I found out about the event through the Hampton Roads Chamber of Commerce and was excited for the opportunity to learn more about the foundation, network with other local business people and, of course, taste a few new wines.
The evening kicked off with a bundle of information about what the Kidney Foundation does, light finger foods and a true/false game of kidney disease education.  In addition to meeting other local Hampton Roads professionals, I learned about the prevalence of
kidney disease in this area and the lack of knowledge not only I have, but that most other people do, too.  After a few activities, through which Team FitNice earned some Kidney Foundation swag, including a new coffee mug, a magnet and an adorable teddy bear, the informational portion of the evening wrapped up and we moved on to the wine tasting.
Our wine tasting portion of the night included four wines linked by the theme that each was a blended wine.  Presented by Total Wine staffer Rachel, our four wines were the crisp and easy drinking Kitchen Sink White Blend (my favorite of the four), the more acidic, edgy and citrus flavored Script and Seal White Blend, the earthy and aromatic Kestrel Lady in Red and, finally, the big bodied Sexy Wine Bomb Red Blend.  I left the meet and greet/wine tasting event excited about getting Team FitNice involved in the May 17th Kidney Walk and went overboard, cruising the aisles of Total Wine before we ending up with 8 new wines to try and a six pack of Bell's Wheat Love Ale.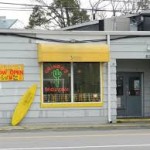 Hunger had attacked during our aisle patrolling, and we went nearby to Gringo's Taqueria for a late-ish dinner.  A tiny, hole-in-the-wall, local spot tucked away at the Oceanfront, it's famous for its fish tacos.  Although neither of us dined on fish tacos last night, my shrimp and steak fajitas special was fresh, tasty and filling and Doug's fresh shrimp and pineapple salsa bowl was equally as crisp, fragrant and stuffing.  We really enjoyed our food, our drinks and the environment.  The west coast inspired food might be a tab expensive, but it's all incredibly fresh and free of grease.  This little gem is definitely worth a visit when you're in the mood for friendly, local fare.
Stay tuned as I'll review each of the wines we bought last night after they've been opened, and keep you updated on Team FitNice's plans for the Hampton Roads Kidney Walk on 17 May, 2014.
Meredith
Do you know anyone with Kidney Disease?  What's your favorite type of taco?