I'm back!  Nashville was a blast.  Visiting the city to run the Rock n Roll Nashville Country Music Marathon, and not set a PR, was exactly what I needed to keep my 'running is fun' mindset.  I had a great race, stay tuned for the recap this week, got to explore a new and exciting city, and, of course, any road trip is always fun.
My fellow runner friend Lauren joined Doug and I on the trip, and Lauren's mom and sister were also heading to town from Indiana to run (walk) with us.  The drive from Virginia Beach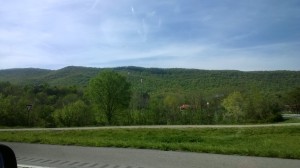 was close to 11 hours, including a few stops and two traffic jams, but the scenery through the mountains was pretty and we arrived earlier than expected.
We stayed at a wonderful vacation rental and upon our arrival, the owner filled us in on the local scene.  The three of us got ready to go see what Nashville had to offer, then walked to the nearby Italian restaurant Bella Napoli Pizzeria so Lauren and I could get our carb load on.  After a scrumptious meal, we called a cab and prepared to take on the town.  A walk down bustling, live music filled Broadway led us to Honky Tonk Central, where we stepped into the three story, crowded, energetic and loud bar for one adult soda.  Tired from traveling all day, we were in the mood for something a bit quieter and found Fleet Street Pub on Painter's Alley.  We drank imported beer and played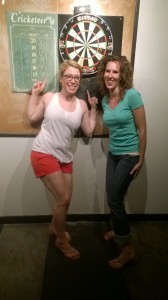 darts for a few hours before heading home.  It was a wonderful first night in Nashville.
Friday morning we eased into the day, then made our way to the Expo.  I picked up my number and swag, then moved up to Corral 2 before exploring the exhibitors while Lauren shopped for shoes.  The expo was crowded as expected, but we both breezed through packet pick-up and only got caught in the crowds once we entered the exhibitor area.  The massive Music City Center is an impressive affair, and as we left, we met up with Lauren's parents for lunch.  We had lunch at Rock Bottom Brewery on Broadway, which was as yummy as always, then went to check out the Country Music Hall of Fame.   The Hall of Fame was very interesting, and I learned a lot I didn't know about the history of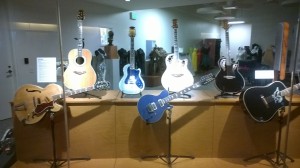 country music and how it's helped to shape landscape of American music as a whole.  Naps and showers followed, then Lauren went to have dinner with her family, while Doug and I noshed on Mexican inspired offerings a Taco Mamacita.  Another delicious meal, good service paired perfectly with the fresh and unique food.
Once we all returned home, we pinned our numbers to our race attire, packed our gear bags and hit the hay.  A 5am wake up on Race Day kicked off my Country Music Half Marathon, but my next post recaps the race and our post-race activities, and I don't want to spoil it, so I'll skip to Sunday morning.
A leisurely wake up, we packed the car and started to head home.  We  dropped Lauren off at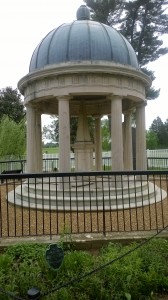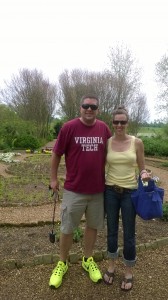 the car her family had left for her outside of downtown then Doug and I took a detour to The Hermitage.  A stunning property, neither of us knew much about it.  We walked through the Mansion, Museum and grounds while learning the Hermitage's story and a bit more about the Jackson family.  Here we are in Rachel's beloved garden, and on the right is where both Andrew and Rachel were laid to rest.
After arriving home Sunday night, I was glad I had Monday to recover.  It was a wonderful weekend, full of friends, running and history in a great city.  I certainly recommend a visit to Nashville when you have the opportunity, and be sure to check out Broadway, The Country Music Hall of Fame and the Heritage while you're there.
Meredith
Have you been to Nashville?  Would you like to go?  If you've been, did you enjoy it?