Blogging.  This is a blog, and I guess that makes me a blogger.  A person who participates in blogging.  The blogosphere.  And this is the one year anniversary of my entry into the land of online writing.  A world unto itself, I had no idea what I was getting into when I launched this side of my business.  It's been a fun and exciting journey and I can't wait to see what the future brings.
I began this journey because I missed writing.  After graduating Delaware in 2006 with an English degree, I went to work and stepped away from writing more than the occasional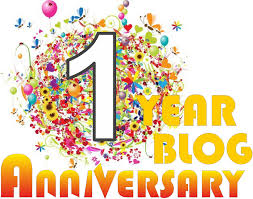 Facebook post, birthday card, email or training plan.  When I started my Masters program at Old Dominion University in 2011, I was back at my desk with some serious writing before me.  I thoroughly enjoyed my time as an ODU student as well as both the challenges and rewards it presented.  Upon completing my course work, I found I missed it.  So, there I was.  Wanting to write something but totally lacking direction.  Enter blog.
Here was an opportunity to write as much or as little was I wanted without any pressure.  Perfect!  I didn't care if anyone read it, I just wanted to put my thoughts down on 'paper'.  I haven't the faintest idea what led to me think I was ready for the demands a blog places on its writer.  In fact, I most likely started it exactly because I had no idea what I was getting into.
Before launching, I narrowed the focus of my future blog and created the FitNiceRunner division of FitNicePT.  Always one for a challenge, I was excited to begin my blogging journey.  This is my first post.  Not really the pinnacle of content.  I had a long way to go and didn't even know it.
With my plan to make this blog a place to express my passion for running and help others build a love for the sport, I started to build.  After learning some of the basics of WordPress, it was time to start the FitNiceRunner Facebook page.  Then it was Twitter.  I was faced with the new challenges of managing both the FitNicePT and FitNiceRunner blogs, Twitters and Facebooks and struggled.  I had a lot on my plate and put pressure on myself to blog constantly.  I had to learn to manage all of those accounts, my clients and my business while still eating and sleeping.  I knew that couldn't go on for long, so thank goodness for HootSuite!
At the same time I started using HootSuite to help me schedule social media posts, I slowed down my blogging and began to get more involved in other community media, such as RunChat.  I slowly gathered followers and fans, interacting with amazing runners, bloggers, men and women who are a part of the blogging, running and fitness communities.  Not only was this
a more effective way to build my brand, every person I have interacted with since delving into the online running bloggers business has been amazing.  As a group, they are supportive, enthusiastic and altogether awesome.  With the support of my runners friends, I launched a YouTube Channel and had the honor of becoming an Ambassador for Girls Gone Sporty, SweatPink and BioSkin in only the last few months.  I can't wait to see what comes next.
Year One has been amazing.  My half marathon PR has dropped by 10 minutes, I've learned more about social media than I ever thought I'd know, or need to, and met some very wonderful people.  I look forward to growing as a runner, coach and person by meeting, helping and learning from more and more fellow runners and bloggers in Year Two.
Meredith
How long have you been blogging?  What are the most important things you've learned about yourself and the blogging world over the last year?