Another good week of training is in the books!  This past week was the final week of mileage increases and since I started base building 10 weeks ago, I've really come a long way.  With the weather being hot and humid lately I thought I might struggle this week.  I didn't!  Each of my runs went as planned and heading in a recovery week, I am really happy with how all of the base building went.
I started the base building process with 30 miles then added 2 miles each week until I hit 50.  I ran a bit more than 50 this week and here's how I did it:
Monday:  Race Pace 4 miles.  I wasn't sure about my foot but it felt better and with the evening's low humidity, I pushed hard on this outing and turned in a solid performance.
Tuesday:  LSD 9 miles and heavy front squats.  It was a little warm running through the state park in spite of the shade and I took it slow at the start.  I finished the run strong and my squats felt really good.
Wednesday: Recovery 45 minutes.  Man, did I need it.  My legs were fried from Tuesday's workouts and I was more than happy to go nice and easy in the early morning humidity.
Thursday: LSD 8 miles.  After my sore legs on Wednesday I expected this to be more of a struggle than it was.  A warm up mile led to seven more that were about 10 seconds faster per mile than I had planned on but the pace felt good, so I stuck with it.
Friday:  30 minutes barefoot in the deep, soft sand.  I was trying to test my foot a bit and it help up.  I threw in a few pick-ups to get my quads and calves burning, making this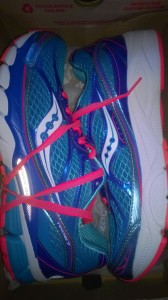 workout a good mini-threshold session then cooled down and recovered with 10 minutes very easy.  Afternoon deadlifts wrapped up my Virgina Beach workouts for the week.
Saturday:  1200M repeats over hills while at home in Philadelphia.  I was really excited to get some hill work in and I needed to do some speed work, too, so why not put them together?  It was a tough workout that felt good and didn't leave me feeling exhausted for Sunday's long run.  I also took my brand new shoes out for a spin on this run and not only was I bright and sparkly, my feet felt great and I totally forgot about the pain I had had a week earlier.
Sunday:  A long run to get those remaining miles, I ended up with 11.5 miles littered with surges at race pace on a shady, fairly flat trip around the Falls Bridge Loop.  I felt like I could have kept going for another 4-5 miles which really made me feel good and got me exciting to enjoy some rest before putting my legs to the test with some hard, fast long runs.
With my base building complete, I'm looking forward to seeing how I feel in a few weeks.  The next seven days will be lots of recovery with easy, short runs and light cross training to give my body a break.  I'll probably do another 50 mile week (August?) to see what I've retained as I roll into my training plan for Myrtle Beach in October.  I also registered for Rock N Roll Virginia Beach this weekend.  I'm looking at it as a long training run that's sure to be hot and humid with 10,000 of my running buddies.  I have no finish time expectations, hoping to have as much fun as I did in Nashville and stay motivated through the dog days of August.
Meredith
Are you running RnR VB?  How's your training going?