Myrtle Week 7 was full of solid workouts.  I wrapped up the training week with a three mile recovery run yesterday and my legs are happy to have a Sunday rest day.  This week's workouts put me in a good mental place heading into two taper weeks before lining up to tackle my new PR attempt at the Myrtle Beach Mini.
After a hard run at last Saturday's Heart of Ghent 10k and an overly enthusiastic deep sand recovery run the next morning, I rested Monday.  An easy eight miler filled in my Tuesday workout schedule while rain put a big damper on my Wednesday plan.  I did strength training in the morning that included rowing a 5k to keep my mileage on track instead of running then speed work on the dreadmill that evening.  Thursday I was back in the gym for lots of squats to get my legs ready for Friday's 15 miler.  The weather was great, my legs settled in much better than I had expected after Thursday's heavy lifting and I ran a negative split without even thinking about it.  That run combined with my performance at the 10k have solidified my belief that I will be able to PR in three weeks (barring injury or bad weather).
On to more exciting things!  I had so much fun pacing the Rock n Roll Virginia Beach that I've accepted another opportunity to lead a pace group.  Along with two other runners, I'll be leading the 2 hour pace group at the inaugural Harbor Lights Half just before Thanksgiving.  J&A Racing puts on amazing events and I'm excited to be a part of the pace team for this new race.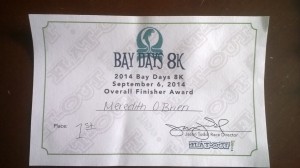 I also received my award from the Bay Days 8k.  As I mentioned in this post, my email asking if I would be receiving any kind of certificate was not responded to but 10 days later I did get asked for my address.  A envelope arrived and I was surprised with its contents for a few reasons.  1) The certificate is bent in multiple places.  2) There was quite a bit of hand writing on the certificate.  Last year's award was a very nice personalized finisher's certificate with my name, finish time and place printed on it.  3) The certificate is wrong.  My finish place was not 1st.  First female, yes.  First, no.  There were 21 men who crossed the Finish line before I did.  This didn't do much to improve my opinion of the race.  I've heard that Flat Out Events usually does a good job from runners who have participated in their other races and it's unfortunate the only experience I've had with them isn't so great.  I probably won't be toeing the line at next years Bay Days 8k but would consider another of the company's events.
A great training week is in the books and I'm looking forward to dropping my mileage over the next two weeks to get ready for Race Day.
Meredith
Are you running the Harbor Lights Half?  How was your training week?