Eating is not only a big part of my training routine, it's one of my favorite things to do.  Rather than a What I Ate Wednesday post, I thought I'd share what I'm currently eating, loving and can't wait to eat again.
These oatcakes are delicious!  I received them as part of a gift basket and was excited to try them.  I'd never had an oatcake before.  As for my first oatcake experience, it was lovely.  Effie's Homemade Oatcakes make a great snack all by themselves and are even better with some peanut butter or a slice of cheese.  The Canadian business makes several other varieties of simple, tasty cakes that are both portable and versatile.
If you're looking something meatier to eat, try these jerky snacks from KOOEE!  I discovered the company through my SweatPink ambassadorship and was went two flavors of samples.  I started by eating the Smoked Chipolte and Apple Flavor yesterday and am
looking forward to opening a package of Lime Pepper with Mango later today.  The Smoked Chipolte and Apple was delicious.  They're working hard at KOOEE! to get off the ground and you can help their Kickstarter campaign here.  Stay tuned for my full product review!
The third food related item I'm eating right now is this Dulcet Cuisine Toasted Sesame & Ginger Asian Sauce.  It's the first of their products I've tried and it's delightful.  All natural, Kosher and preservative free make it taste all the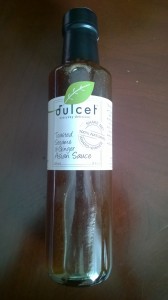 better.  I picked it up along with lunch at Taste Unlimited because I knew we were out of soy sauce at the house and this seemed like it might be a good, something different for dinner that evening.  The light sauce goes very well with salads, chicken and pork as a dressing or dipping sauce but isn't heavy enough to make a good marinade.
I love eating these three foods and definitely recommend giving these small companies and their delicious products a try!
Meredith
Have you tried any of these products?  What are you eating and loving this week?