There are seven days before I toe the Start Line for Race 3 of my three race training cycle and my training has been going well.  Before I get into my Race 3 plans, Happy Thanksgiving!  I hope
everyone had or is having a fantastic time with their friends and family.  Doug and I slept in then went to our annual neighborhood Turkey Trot and Breakfast before he rotisseried a pair of small chickens on the grill.  Even though we both like turkey, he's been itching to use his grilling toys and with just us, why not?  Jordy was very helpful and made sure everything cooked as planned.  We ate an early dinner of delicious chicken, stuffing, mashed potatoes (my favorite), veggies and wine to get ready for the Eagles game.  A little bit of relaxing followed the game then it was back to work this morning for both of us.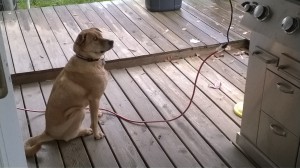 With the holiday behind me, it's time to start looking towards the Rehoboth Beach/Seashore Half Marathon next Saturday.  It's the end of this short training cycle and I've been a little all over the map with my plans for it.  One day it's going to be a PR race, the next it's just a training run.  After a bad run at Race 1 in Las Vegas and a really good one at Race 2 in Norfolk, I'm leaning towards going for the time I missed in Myrtle Beach next weekend.  My training has been solid over the last 10 days and I'd like to see what I can do without weeks of concentration.  I worked really hard for my 1:39.09 PR in March at a windy race and without really trying beat it at 1:38.42 three weeks later.  To come in ahead of my Myrtle Beach time, I'll simply have to run the same pace for less distance.  This weekend's long run will be a hard effort that, hopefully, leaves me with a good idea of what my goal should be.
This is, of course, all contingent on the weather.  The first weekend of December in 2014 hit the east coast with winds, rain and cold temperatures that made making a PR effort extra difficult.  The current forecast calls for temperatures in the mid-40s and a 10% chance of rain but if things lately are any indication, that's no guarantee.  If the weather looks bad or the wind kicks up to 10+ miles an hour, my Race 3 plans will include taking this one easy and getting back to business before trying again at Rock n Roll Arizona in a few weeks.  If I do manage to hit the 1:37.00 goal in Delaware, I'll have to put some thinking into my goals for the first few months, and races, of 2015.
Meredith
How was your Thanksgiving?  What special recipes did you use?  Are you racing next weekend?