Another year is drawing to a close and 2014 seemed to fly by faster than the last.  It was an exciting year of running adventures, traveling and lots of learning.
As 2014 rolled in, I established both personal and professional goals for the next 12 months.  My personal goals revolved around running, including logging 1,200 miles and clocking a sub 1:40.00 half marathon before the summer began.  My professional goals were to get my USA Track and Field Level I certification, grow FitNicePT and potentially write an e-book.  Now that 2014 is on the way out and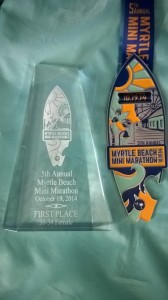 2015 is knocking on the door, it's time to take a look back at the last 365 days.
I nailed one of my running goals by PRing under 1:40.00 twice before summer and again in October at 1:37.24.  My racing year was very exciting and if you want to read all about it, here it is!  I exceeded my second running goal by running 1,445 miles in 2014.  Staying injury free was a huge bonus and I credit it to listening to my body in combination with consistent strength training.
My professional goals were not so easy to gauge.  I did receive my USA Track and Field Level I Coaching certification in March and the three-day course was a great learning experience.  I also took FitNicePT in a different direction and struggled with where I wanted to go.  Instead of writing an e-book, I took a lot of time to learn and use Twitter to help build a strong voice for my brand and gave more time to my blogs.  I love sharing my passion and knowledge while helping others reach their goals.  Being a part of the RunChat and BibRave c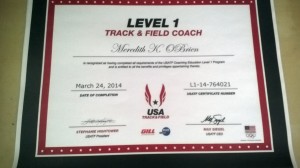 ommunities has been very rewarding and while an e-book longer than 140 characters is still potentially on the horizon, I'm happy to be a part of the online running community on a daily basis.
Between my USATF coaching course, various continuing education efforts and some blogging trial and error, I did a lot of learning in 2014.  I stretched my long runs longer than ever before, lifted heavier weights than I thought I could, reached out to brands and businesses I never thought I could and look forward to taking those lessons with me into 2015.
What are my goals for 2015?  I have a Rock n Roll Phoenix and Rock n Roll DC on the calendar but am not aiming for a PR at either event.  I want to continue to grow the FitNicePT brand and need to choose the best way to do that.  I'll spend some serious time thinking about it over the next few days and can't wait to share what I decide.
Meredith
What was your biggest accomplishment of 2014?  Did you reach all of your goals?