The 2015 Hartford Half Marathon was the first half of my fall 2015 back to back half marathons and it was a blast.  I had the pleasure of pacing the two hour group to lots of PRs on a beautiful day over a fun course.  The race was a big success with lots of positives that I'd love to see at other races in the future.
The Hartford portion of my back to back weekend began with a ton of traffic heading towards the city making it take longer than expected to get there.  Luckily this hold up wasn't a big deal because as a pacer my race gear had been mailed to me earlier in the month and I could skip the expo.  When we finally arrived Friday evening, my Mom and I checked in to the Holiday Inn Downtown East Hartford, went downstairs for dinner and spent the rest of the evening before my early bed time hanging out
watching Virginia Tech beat NC State on Friday night football.  The hotel had lots of Hartford Half Marathon spirit, including door hangers that read "Saturday is the big day and I need my rest."  So cute.  In addition to Marathon spirit, they had a carb loading buffet in their restaurant.  I chowed down on two rounds garlic bread, salad, delicious grilled chicken and tasty sweet potatoes before throwing in the dinner towel.
I rolled out of bed at 6:20 the next morning for the Hartford Half Marathon's 8am start time.  Breakfast was out at the hotel so I munched on a croissant and a banana nut muffin while I got ready to go then headed out into a brisk (for me) morning as the sun was rising.  The pace team was meeting up at 7:25 to get our signs and access indoor restrooms at Bushnell Theater, about a mile from the hotel.  I jogged to Bushnell Park as a warm-up, walked through a well organized crowd where there were several hydration stations and not exceedingly long lines at Port-a-Potties.  I didn't need gear check but it was available and convenient, right near everything else you might want.  Grabbing a cup of water, I found my way to the theater where I gathered my signs, met my pace buddy Chelen and enjoyed the nice bonus of using the clean, warm facilities to stretch out and finalize pacing plans.
At 7:45 Chelen and I took our 2:00 signs out into a slightly warmer day where a large group of runners joined us.  We chatted with excitement as our 2:00 group moved towards the non-corralled start.  As we stood with our group, the weather just kept getting better and many participants noted how the previous year had been just terrible with rain and cold.  Feeling very lucky to be out on a nice day with a great group of runners, I listened while a Hartford policeman sang the national anthem in outstanding fashion and before we knew it, we were off.
The course began with a slight incline then moved into soft rolling hills with a few big climbs and some nice downhills throughout but nothing too serious.  The half marathon split from the full about a mile in and traffic eased up while Chelen and I chatted with our group.  All of a sudden we were rocking through the timing mat at Mile 5.  A check of our watches told us we were right on two hour pace.  During those miles we had passed numerous well stocked Hartford Half Marathon hydration stations with both water and Gatorade, some very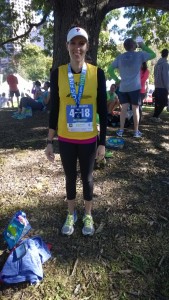 enthusiastic cheer groups and several small banks of Port-a-Potties lining the course.
Over the next eight miles, rolling hills continued as we ran through more of Hartford's adorable neighborhoods and a beautiful park.  Nice cool breezes and shady streets popped up at the perfect time to keep everyone cool while course support never waned.  Suddenly Mile 12 appeared.  It was such a beautiful day, I wasn't quite ready to be be done running but I had two runners working hard for PRs and was honored to help push them through the finish.  My official times were 2:00.34 gun time and 1:59.28 chip time which both made me really happy since I hadn't noticed immediately when I crossed the start in our big group.
The finish was, like the start, very well organized.  A green event, the Hartford Half Marathon gave finishers a nice reusable bottle filled with water instead of the typical bottles you see in the chute and rather than picking up 17 different post race fueling items, finishers were handed a reusable bag filled with protein and carb treats.  I met my Mom, changed out of some sweaty clothes and had a nice cool down walk back to the hotel that included seeing the first and second place male marathon finishers speed by.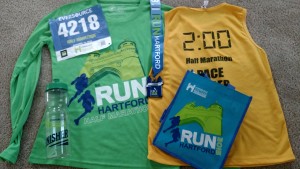 Once back at the hotel, it was a quick foam roll while downing a protein shake and two Cliff bars, a nice long shower, compression on and in the car to Rhode Island for Sunday's Ocean State Rhode Race.  I would definitely run the Hartford Half Marathon again.  It's a fun course with beautiful scenery in a friendly town with lots to do.  The race was one of the most well organized I've been a part of with weather that couldn't have been better.  It was a pleasure to pace four runners to PRs and is an experience I sincerely enjoyed.
Meredith
What's the best organized race you've run?  Have you run the Hartford Half Marathon before?