The 2015 Ocean State Rhode Race was a series of firsts for me.  It was the second half of my first back to back half marathon weekend, the race's inaugural running and the first time I had absolutely no idea what would happen.  The good news is everything went really well over the hilliest course I've seen yet.
After a fun time pacing Hartford on Saturday, I showered, downed some fluids and carbs then hopped in the car with Mom.  We traveled from Hartford directly to packet pick-up for the second half of my first back to back half marathons in Narragansett, RI in about two hours.  Packet pick-up was uncrowded in the quiet Narragansett Theater with no expo and it was easy to grab my number, tech shirt and goody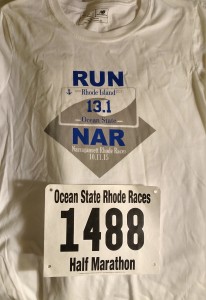 bag packed with snacks like Clif Bars and three QuicDisc tubes I'm excited to try.  A five minute drive later, we were checking into the Hampton Inn South Kingston and prepping for dinner in nearby Newport.
I wasn't sure how good my recovery from Hartford could actually be after sitting in the car pretty quickly after running for over two hours so I threw in a pre-dinner foam roll and stretch session.  As my Mom and I walked around Newport, my legs felt better than expected.  While chowing down on a tasty dish of lobster mac from The Barking Crab, I started to feel positive about hitting my 2015 Ocean State Rhode Race goal of breaking 1:45.  After dinner and a bit more walking on a gorgeous fall evening, it was back to the very comfortable hotel for relaxing and an early bedtime.
My alarm went off at 6:20 for the 8am race and I made my way downstairs to enjoy the Hampton Inn's fantastic breakfast buffet that had started at 5am.  I downed a bowl of cereal, a banana and half a buttered bagel as I stretched and foam rolled legs that felt really good.  Driving to the start at 7am, we made the 3.5 mile trip in roughly 8 minutes.  Once arriving, race day packet pick-up was under way, runners for the full marathon, which started at 7:30, were warming up and a big bank of Port-a-Potties stood at the ready.  A smaller race, roughly 700 runners in the half, meant no backups at the Ocean State Rhode Race Port-a-Potties and plenty of room to move around.
As I milled around, chatted, stretched and stayed warm for the next 40 minutes, I felt 100% ready to rock.  The marathon took off and I locked in my goal to finish under 1:45.  I had been wary of setting any goal at all because I had no idea how I'd feel after getting beaten up in Hartford or exactly how hilly the course would be but during those 40 minutes, I felt good.  With legs itching to run, I entered the corral-less starting area.  A minute later the national anthem was played and right on time, the gun went off.
I enjoyed rolling hills, perfect weather and great scenery as the first miles flew by.  My legs felt good powering up hills of various sizes and floating down with a little help from gravity.   I grabbed water at Mile 4, chatted with two other runners while we ran miles six and seven as a group then separated when I walked through a water station at Mile 8.  By this time, the rolling hills from early in the race had given way to some big climbs with not-so-much downhills and I started to feel the previous day's 15 miles right around the one hour mark.
As the race continued, beautiful scenery kept coming and so did the climbs.  I was running again on the right side of the road and my knee started to bother me a little bit.  Knowing I was on track to hit my 1:45 goal, I ended up taking a walking break to eat a CarbBoom gel in tasty Pomegranite/Grape flavor I had picked up earlier on the course after Mile 9.  My knee began to get worse by continuing to run on the right side of the road and between Miles 10 and 12, I took a few more 30 second walking breaks to shake it out.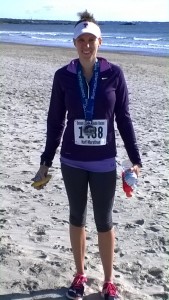 In the final mile I was able to run on a flat surface.  My knee immediately felt better and I knew I would have a strong finish.  I cruised in with a 'let's see what's left' kick for the last 400 at 1:43.16.  There was more than I thought in my tank for those last 400 meters but after 15 miles Saturday, over 500 feet of elevation gain Sunday and a grumpy knee, I was very happy to have anything at all.
The post race area was very nice with tons of food and hydration options.  The medals are nice though only the first place finishers in age groups were recognized.  Hopefully as the race grows this will change.  I also hope that in the future at least one side of the road will be completely closed, giving runners a chance to get off of an angled surface.  In summary, the 2015 Ocean State Rhode Race was a solid inaugural event with great weather, a challenging course and friendly runners.
Meredith
What's the hilliest course you've run?  Do you like flat or a little change over a race course?