Sweat Pink and prAna are kicking off a 30 Days of Yoga challenge and I've accepted the showdown.  I have a tricky relationship with yoga but know it's good for me and am excited to have some yoga accountability.  The challenge begins with my first ever yoga mad lib!
When I think about yoga, the first thought that comes to mind is I should do more. Yoga stretches me out and makes me feel more mobile.
That's why I am SO ready to participate in prAna's Take The Leap 30 days of Yoga Challenge with Sweat Pink. I plan to standing split my way to a more balanced and flexible 2015!
For me, the biggest challenge when it comes to yoga is relaxing. Taking the Leap with prAna and Sweat Pink is a great way for me find a quiet mind.
My favorite place to yoga is on the beach because it is so peaceful.  Here's a photo of me in my very best downward facing dog (tight calves!).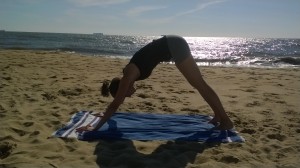 I tag Hollie at Fueled by LOLZ, Elizabeth at Train with Bain and Katie at Moms Little Running Buddies.  I want these fabulous bloggers to share their very best yoga pose photos, this fun madlib and of course, I challenge them to join me on this fun 30 day yoga journey.
Take the Leap with me!
Join prAna's & Sweat Pink's Take the Leap 30 Days of Yoga Challenge and be eligible to win $500 worth of prAna gear and / or be the lucky winner who gets to gift $500 worth of prAna gear to one lucky winner. They just launched their new spring collection so you best get on it!
If I win I would gift the $500 to my mom because she sometimes needs a little extra inspiration to work out.
Join the Take the Leap with prAna and Sweat Pink Facebook group / event which we'll use for updates, sharing,and inspiration: https://www.facebook.com/groups/1525412337742204/ and event page: https://www.facebook.com/events/423377431152799
And join the challenge on Instagram, Twitter, and your blog using the hashtags:
#TakeTheLeap
#prana
#sweatpink
And of course, tag @prana @FitApproach
Meredith
Will you join me and do 30 Days of Yoga?