Well, there is more snow on the ground here in Virginia Beach.  After last week's fun run in the snow led to a series of school cancellations and bad roads, things started to clear up just in time to be undone.
There were three mid-day hours of snow predicted for Tuesday that turned out to be light flurries by the the time I took off for an easy five miler at 1:30 that afternoon.  I had been very excited for my first run in the snow this year and while I wasn't as excited for this one, it was fun to run in a real life snow globe again.  The light flurries were still falling when I finished but by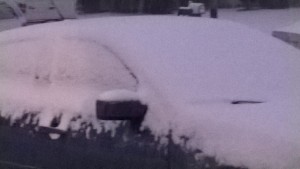 the time I foam rolled, stretched and showered, it was coming down hard.  Uh-oh.  Horror settled in as I imagined running Wednesday's 14 miler on a treadmill.  As more snow continued to fall Tuesday evening, I hoped the weather guessers were right it would get up into the 40s on Wednesday and melt it off the roads I wanted to run on.
Wednesday morning didn't look good.  The roads were snowy, slushy and unsafe.  Ugh.  I remained hopeful things would clear up but also resigned myself to a treadmill run.  In an effort to shorten the afternoon's torture, I racked up four morning miles on the rower and was very happy when the sun popped out to warm things up.  By 2:30 the roads were clear, the air felt like 38 degrees and I was pumped to run 11 miles outside.  Ecstatic, actually.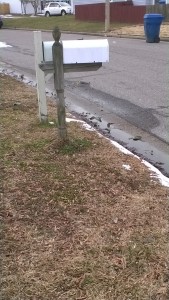 As excited as I was about the weather, I was a bit nervous about the running would go.  It had been a while since my last 15 mile day and rowing is hard work.  I was concerned it had taken more out of me than I expected.  Needless to say, I was shocked when I hit my 10th running mile and felt amazing.  I don't know whether it was the warm day, the sunshine or fear of the treadmill that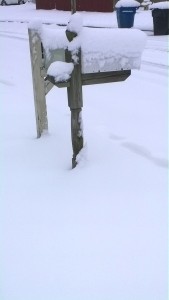 made my legs feel so good, but I was pretty sure I could have cruised right through another 5k.
More snow was predicted Wednesday night and I scheduled an unplanned rest day for today.  This is what things looked like then I finished my run yesterday and what they looked like this morning.  I guess it isn't really a total rest day, I did do a workout consisting of moving the sleet covered fluff around, foam rolling and stretching.  I'm really happy with the way yesterday went and can't wait to get away from the treadmill for more than a few days in a row.  There are two weeks until Rock n Roll DC, where hopefully there won't be any more snow, and I'm ready to see where I am in my training.
Meredith
How much snow do you have?  How do you deal with lots of treadmill miles?