Wow!  June is almost here.  The last five months have flown by and Spring 2015 was home to a little bit of everything in my running world.  I know calling everything before June 'spring 2015' isn't particularly accurate but I spent most of January and February focusing on events that came in when things started to warm up.
January – Training and Rock n Roll Arizona.  Racing in Phoenix was a blast!  It was a solid month for both running and strength training what left me feeling good going into an event free February.
February – Training.  Lots of training.  Running, lifting, Crossfitting.  At the end of this short month, I was ready to hit the race course in March and looking forward to a productive Spring 2015.
March – This was a big month.  I spent the first weekend acquiring my Crossfit Endurance Coaching certification and the next two weeks hammering home the things I had learned.  My cadence increased, my form improved, I continued to strength train all as I prepared for my training/check in race at Rock n Roll DC.  Little did I know, this would be my best racing half marathon performance of Spring 2015.  Seven days after drying out from a very wet DC where I was 26 seconds off my half PR after having run extra on purpose, leisurely walked through a water stop and stopped for a shoe issue, I was on to pacing Shamrock.  As always, Shamrock was a great event to wrap up two weeks of non-racing.  I rounded March out with a pair of solid 15 milers then entered an event free April.
April – This month was all about training.  I had two shots to lower my half marathon PR in May and really wanted to hit it.  After DC, I knew I was more than capable.  Running and strength training dominated the month.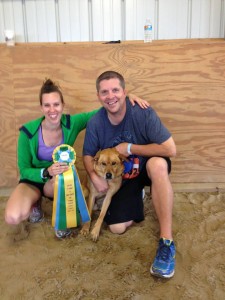 May – May was not what I expected or wanted.  My target Spring 2015 race was a disaster and I never fully recovered.  The very next weekend I was third overall female at one of my favorite events, the EquiKids Cross Country 5k.  While my performance was good enough to earn me a great award, my legs had felt crappy over the dirt course and I was slower than I wanted by over a minute.  Seven days after that, I was off to the St. Michael's Half Marathon.  A second chance to get that PR I had bitterly missed in Kansas two weeks before, I was on pace to hit my goal at the 7 mile mark.  After that things fell apart.  I finished in worse shape than I had in Kansas, most likely due to the higher temperatures and humidity and never fully recovering from the knee issues I encountered out there.  The race itself was wonderful but I crossed the finish line burned out and ready for a change.
After St. Michael's, I took a few days off to give my body the rest it needed.  The thought of running on a road was rather unappealing but I started back moving again with an easy 5k that felt great, a Crossfit WOD and two days of long walks and hilly hikes.  This final week in March I've tried to keep things fresh with a long run on the beach, a treadmill run and lots of Crossfit.  Speed and tempo work are on the schedule to wear May out this weekend.
June and Beyond – Training for Rock n Roll Chicago is on the docket for June as I put Spring 2015's burn out behind me.  I'm taking it easy and giving myself lots of options like beach running and replacing some easy miles with tough rowing or cardio centered WODs.  I registered to race a 10k in September, back to back non-racing half marathons in October (two more states!) and a 5k in November.  It's been a while since I focused on having success at a distance other than 13.1 and my fall goals are to set PRs at 5k and 10k with the potential for a racing half if I feel like it.
Meredith
How was your Spring 2015?  Have you ever burned out?  What are your fall goals?