I've run and I've rucked.  This weekend I finally put them together to complete my first Kill That 5k.  Presented by GoRuck, it's an afternoon event with something for everyone to support Team RWB and have some serious fun.  I entered the competitive female division and would have to complete the race with 20lbs on my back.  The weather was warm but breezy and not humid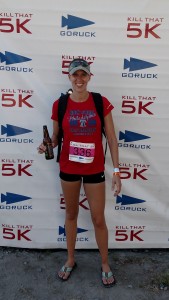 when I arrived at Hunt Club Farm to give this thing my best shot.
I loaded up my GR Echo with 20.2lbs and headed for the start with no idea what to expect but knowing two things: I would finish and my shorts tan was looking pretty solid.  I had my ruck weighed, removed some excess load and was ready to go.  After some socializing, everyone gathered to sing the national anthem and send off the first wave of Kill That 5k runners.  One minute after the elite group took off with their excessively heavy rucks (50+lbs), the competitive men went and one more minute later my group of competitive ladies were on the hunt.
We struck out with no one visible in front of us, myself and one other woman in the lead.  Two quick wrong turns not only demonstrated my lack of land navigation skills, especially without a map and compass, but had us laughing and chatting our way through the first mile while slowly pulling away from one another.  I ruck-ran over narrow grass trails through the woods, through a very dark covered bridge, on dusty gravel roads and stepped in a few mud puddles to complete Lap 1 at the 1.5 mile mark.  Ok, this is a two lap course, got it.  I hoped not to make any wrong turns my second time around.
Nope!  There was no one visible in front of me as I started to weave my way back into the woods for lap number two.  To avoid those first lap wrong turns I stopped and looked around for the covered bridge.  Spotted it, bee-lined to it and headed into the last mile of my first Kill that 5k.  Coming out of the woods, I stopped for water midway through my second lap and settled in to finish strong while staying 100% on course.  I did just that and as a bonus, got to run under the Finish Line twice.  I went through the 'keep going' side my first try and went back around to the 'you're finished' side on my second to collect my newest patch.  I was shocked to be the first female to finish, had my ruck weighed again and did a some post Kill that 5k stretching, chatting and cheering.
Yes, the course could have been marked better but roots were all painted to be visible, the narrow trail through the woods had plenty of shade, the water stop was fully stocked and all you could see walking to the after party were smiles.  And what a party it was.  It kicked off with one free beer for every participant over 21 then rolled on with $1 Stone Brewing beers to
benefit Team RWB.  And because running 3+ miles with 20+ pounds on your back isn't enough for this group, bonus beers were provided as prizes for flutter kick, push-up and ruck shoulder to overhead races after the awards ceremony.  As the first female finisher at Kill that 5k Virginia Beach 2015 I received a $100 GoRuck gift card, an extra special gold Kill that 5k patch, a bag of Oral I.V. Hydration I can't wait to try (and review) and a title to defend next year.
I had a fantastic time getting to know more members of Team RWB Virginia Beach, trying Stone Brewing's tasty offerings for the first time, hanging out with friends, rucking and racing on a beautiful July afternoon.  I can't wait to do it again.
Meredith
What kind of off road racing do you like?  Have you ever GoRucked or done a Kill that 5k?