It's official!  My registration is complete and I will be running my first marathon on 13 March, 2016.  I selected the Newport News One City Marathon because it has an earlier start time than Shamrock, a smaller field, is run on a course I've never seen before and it's point to point.  Mostly, though, one of the biggest reasons behind my choice was that as I fight through my first 26.2+ mile journey I didn't want to be passing the finish area packed with partying friends who have finished the half like the Shamrock course does midway through.  I know it's going to be a mental battle for me and the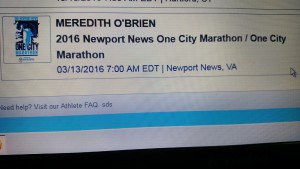 fewer distractions there are the better off I'll be.
That being said, am I looking forward to my first marathon?  Absolutely.  It's a new challenge and I'm 99% sure I'll succeed.  Winter training will be a nice change even though we're supposed to have a rough one.  With this winter predicted to be worse than the last, I actually like the idea of having some really boring treadmill runs that will make any outdoor 20+ miler seem like a slice of heaven.
I'm anxious to get training.  I've set a big goal to BQ (Boston Qualify) which means I'll need to average 8:00 miles to give myself the 5:00 cushion I expect to need.  I'm not hell bent on hitting that since this will be my first try at 26.2 but it'll definitely help keep me pushing on the challenging winter training runs I'll likely face.  That being said, I have a good 16 mile base to build from and most of those runs have been at paces between 7:05 and 7:25.  With over six months to go before race day, I'm ready to see where my baseline is.  My first ever 18 miler is scheduled for the week after I (plan to) PR my 10k at Heart of Ghent and I'm ready to rock my first marathon training test long run.
Meredith
How excited were you for your first marathon?  What worried you the most?  Did you train in hot or cold weather?