My fall racing season was supposed to begin tomorrow but thanks to Mother Nature and a rescheduled race, my season has been postponed by two weeks.  The Heart of Ghent 10k I was so excited for has been moved to 10 October.  Hampton Roads is expecting lots of rain in a short time Friday night through the day on Saturday and as a result some big time flooding is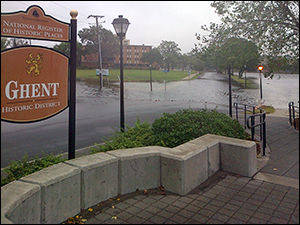 also expected.  Along with the rain comes the continuation of 20+mph winds that have been around for the last four days.  Put this all together and it's not a safe situation for runners, course support personnel or race management.
In the end, this has ended up being my first experience with a rescheduled race.  I understand the need for safety and the desire to still hold the event but I'm disappointed by the way it was handled.  I will be pacing the Hartford Half Marathon that day, a commitment I would absolutely never back out of unless I was injured especially since I have paid for hotels and made travel plans months in advance.  Even if I could run on the rescheduled race date, I have a training schedule that makes throwing in a race effort 10k a little more than 'let me just move it'.
The handling of this rescheduled race bothered me for a few reasons.  First, the release participants sign during registration states "NO RAIN DATES.  NO TRANSFERS.  NO REFUNDS."  When the race was moved to a rain date this contract became void.  Mettle Events was unable to offer refunds because "most of the expenses for conducting the event have already been incurred."  This is certainly not ideal but it's also not my responsibility as a participant to control their financial situation.  They did, however, offer three alternate options for participating.  One was to simply run on 10 October, a second to transfer your registration to another runner and the third to defer to next year.  The second and third options came with a $15 fee for the 10k and a $5 fee for the kid's run.
There was a slight outrage at this from many participants for several reasons.  There are numerous other events people, including myself, are registered for on 10 October and  the transfer fees are ridiculous.  Luckily, thanks the power of social media and some unhappy runners, a virtual run option has been added.  You may run a 10k and submit your time during the week prior to 10 October in order to pick up your packet and medal on 9 October with everyone who is running the next day.
Unfortunately, I am unable to do the virtual run that week due to traveling for Hartford and Narragansett.  I am also unable to attend packet pick up since I will be in Connecticut.  Mettle Events offered to work with those of us who are out of town for the rescheduled event if we sent them an email.  I did so at 9:30 this morning but have not heard back.
I'm bummed out I won't have the chance to run in the rescheduled race and test myself at the 10k distance in a race day situation.  It's just not the same on your own.  That being said, I would love to participate in the virtual run option to avoid a $15 fee and am hopeful Mettle Events will come up with a wonderful solution.
Meredith
Have you ever run a rescheduled race?  What happened?  How did you handle it?