The 2015 Harbor Lights 5k was a target race for me.  It had been a long time since I aimed for a PR in the 5k (2013) and I felt confident I could beat my current PR of 22:31 by more than a few seconds.  When my week of training went according to plan, solid work left me positive I would rock this race.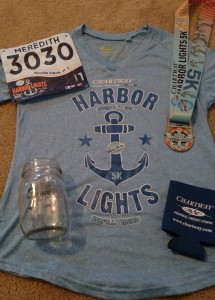 I hit the hay early Friday night and woke up to a chilly but sunny 2015 Harbor Lights 5k morning.  I covered my Lululemon shorts with Nike warm-up pants I've had since about a million years ago, a long sleeve half zip over a sweat wicking tank, Brooks Pure Flow 4s and a fluffy fleece.  In my race bag went flip flops, a dry hoodie, my wallet, my phone and some lip balm.  Doug would be handling gear control so I wasn't worried about the extra clothes I probably wouldn't be needing as the day warmed up.  Breakfast was cereal at home and more cereal on the road since we left over 90 minutes before race time.
We left home earlier than I figured we'd need since I knew parking would be at a premium after last year's fiasco.  I opted to do packet pick-up Saturday morning rather than making an extra trip to Norfolk on Friday and it worked out perfectly.  We arrived with plenty of time to spare around 6:45 and easily found garage parking for $2 though we could tell it was packing in behind us. I shed my fleece immediately after stepping out of the car for a short walk to the Half Moone Cruise and Celebration Center where I quickly picked up my number and super cute technical race shirt.
Back at the car, I pinned my number on and also shed my warm-up pants.  With an option for indoor restrooms available, it was back to the Cruise Center for some stretching and a last minute potty trip.  Around 7:30 I went out to start my warm-up.  I did an easy 800, a few strides and finally 400M at 90% before walking to Corral 1 feeling excited and ready to go get a new PR.
The race went off right on time and I counted six women in front of me as we approached the first corner.  It was clear that several of them were caught up in the start rush as I settled in around my goal 6:50 pace coming through the first 800M.  Beep!  6:44.  Maybe a little fast but nailed it!  I was breathing easy and feeling good as the flat course rounded a few turns through the city of Norfolk while moving past the Mile 1 mark.  My legs kept turning, my form felt dead on past 1.5 where I moved up another spot in the female race.  With an original goal to set a new PR and place in my age group, I was starting to wonder if I could be in the top three women overall at the 2015 Harbor Lights 5k.  A few long straight stretches kept me on track as I clocked 6:41 and 6:45 for the two halves of Mile 2.  Just past the Mile 2 beep Amy of J&A Racing hollered that I was third woman overall.  Woohoo!
I kept trucking into the third mile, taking advantage of a gentle uphill from Mile 2 to 2.5 to fire my Crossfit quads, accelerate and move into 2nd position.  Just as quickly as I found myself in second, a tiny blonde girl screamed by me with roughly 1100M to go.  I knew I wasn't going to catch her but definitely wanted to maintain the third position.  Not much later my watch beep again, 6:42 from 2 to 2.5 thanks to that tiny climb.  Entering the final half plus mile there was a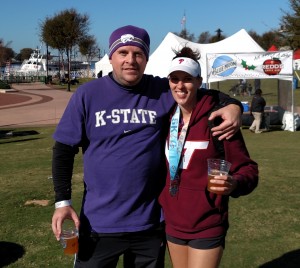 sharp almost u-turn and I took the chance to look behind me as a bystander yelled "THIRD WOMAN!".  I didn't see another female anywhere as we entered a curvy section of the course that slowed me a bit (6:48).  Knowing I would demolish my previous 5k PR and hit my goal of placing, I entered the final straightaway.  Perfect weather was icing on the cake as the Finish line came into view and I kicked to cross the line at 21:14 with 3.19 miles and a final split 0.19 split of 6:25 showing on my Garmin.
I was 34th overall and the third woman with a big smile and a new PR.  A few deep breaths later I collected a bottle opener medal, had an official finisher photo snapped, grabbed a banana, granola bar, bottled water and mason jar race logo finisher glass.  Doug met me and made for
my dry clothes in the car as a cool down.  Dry hoodie and flops on, we celebrated the morning away with friends, enjoying the PR board, a gorgeous day and Blue Moon beer.
Once again, J&A Racing put on a wonderful event.  Parking was easier than last year, Port-a-Potties were aplenty, bottle opener medals matched mason jar finisher items that held your post race libations for celebrating a good run on a flat, fast course.  I really enjoyed racing the 5k distance and think I might throw a few more into my training schedule.  I'm glad the 2015 Harbor Lights 5k opened my eyes back up the the distance with a great experience and a time I look forward to beating in 2016.
Meredith
Do you like racing the 5k distance?  What's your favorite?  Why?