I started a 30 Day Yoga Challenge a few days after 2017 began. Part of my Unbeatable Mind training, the challenge comes complete with daily instructional videos and support videos. For several months now I've been doing short morning and longer evening yoga practices apart from this challenge. So why add more? It's nice to take a step back.
I'm currently on Day 11 and have done a good job of keeping up with each day's lesson. Most of the concepts that have been covered so far are familiar but it's a nice refresher. Another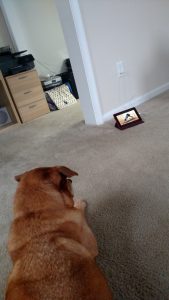 difference between the yoga challenge material and my regular practice is timing. I put the challenge on my daily to-do list rather than the bookmark I use my morning and evening routines for. Taking a few minutes in the middle of the day to focus and relax has been great, I've even noticed a difference in my energy level the last few afternoons.
I've even had help from Jordy watching videos. He preferred to rest in laying dog position instead of down dog pose.
The additional time spent doing yoga exercises each day has come in handy so far this week because it's a down week. After four straight weeks of heavy for me mileage (55, 55, 60, 61), this week's 25-28 leave me lots of free time. It's only Tuesday but I'm not facing the taste of taper madness I thought I would. It helps that with 47 days until marathon day I'm feeling really good about my training. Every workout last week was very solid. My body feels strong and fresh. I'm eating, sleeping and training well. Overall I'm positive about where I am heading into the final training stretch. Bring on race day!
Meredith
Have you ever done a yoga challenge? What do you do during a down week?