The second half of my back to back weekend, the 2016 First Light Half Marathon was a totally different race for me than the one a day earlier.  After struggling in Jackson I was a little bit concerned about how this second race would go.  Happily, everything ended well.
My 2016 First Light Half Marathon experience began with a bus ride in from Jackson.  I felt tired but generally OK getting off the bus and heading to the small expo.  A quick packet pick-up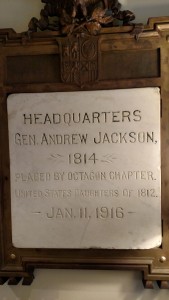 where I was awarded my back to back plaque sent our group of four to check in to the hotel.  I was surprised to receive my back to back plaque before actually completing the second event.  Created by residents of L'Arche Mobile, the plaques are hand painted and come with a little bit of information about the person who made each one.
A short walk later we were in our historic hotel and ordering pizza for dinner.  Tired after a long day, all four of us went to sleep early and got a solid ten hours before a 6:30 wake up for the Sunday race's 7:30 start.  My race day plan was to run about 1:45, log some marathon pace miles and enjoy the much flatter course after minor disaster on the hills of Mississippi.  Race morning dawned bright, brisk and with a slight breeze.  I had no idea what to expect from my legs, especially hoping my ankle would continue to feel as solid as it did when I climbed out of bed.
I ran a short 400M warm up to see what my body would do and it actually felt really good. 
Several minutes later I had woven to the front of the start chute just in time to hear the gun go off right at 7:30.  With no corrals the race started out with lots of traffic that cleared up in the first 1200 meters.  Filled with few turns and lots of long straightaways, the flat course was apparently exactly what my legs/ankle/brain needed.
Rolling through the traffic and into Mile 3 I matched up with a nice gentleman running the full.  Brian (orange hat) had run the full the previous day as well and was shooting for a solid finish, just like me.  We stuck together through the half/full split at Mile 8.5 with the exception of my catching up after walking through a water stop.  Together we clocked an average of 7:30 miles and I was shocked.  I continued to
roll on with some speedier than expected miles through the flat straight stretches but did start to feel a bit beat up around Mile 10.  My final 5k was definitely slower.  I easily stayed on marathon pace as I took a quick pit stop to chat with Joey from Run8va (who snapped this photo at Mile 4).  I walked through a water stop at Mile 11 then settled in for a strong finish back down at 7:20 pace for my last mile of the weekend.
I collected my medal and special back to back medal before trying to find some results.  Based on the 2015 results, I figured might have been in the top 10 but I also noted that the crowd seemed faster this year.  My watch had me in at 1:41.47 and the official clock pinned me at exactly 1:42.  Not knowing if I had to be present to collect an award at 10:30, I scampered to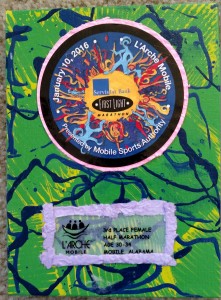 the hotel for a quick shower and foam roll before trotting back to Bienville Park and meeting my troupe.
With awards going to the top ten before getting into age groups, I was lucky enough to be third in my age group at the First Light Half Marathon.  Like the Back 2 Back plaques, the awards were handmade by residents of L'Arche Mobile.  It immediately became one of my favorites because it wasn't created by a machine and someone took time out to do something for a runner they don't even know.  The four of us then went back for a little post race R&R and lunch before heading to the airport.
My 2016 First Light Half Marathon experience was wonderful.  The flat, well supported course and handmade medals and awards can make any runner's day better.  A trot through the friendly city of Mobile was a nice way to wrap up a back to back weekend that didn't go exactly as planned.
Meredith
Have you run back to back races?  Which ones?