The first half of my second back to back half marathons weekend, the 2016 Mississippi Blues Half Marathon was a mixed bag of experiences. The event was very well done with great swag and lots of fun in spite of a slightly rainy day and a less than ideal race for myself.
I was traveling with three girlfriends and we arrived early Friday afternoon.  A quick check in at the Jackson Marriott put us on the short walk to the 2016 Mississippi Blues Half Marathon expo.  Number, shirt and goodie pick-up was fast and easy in the uncrowded convention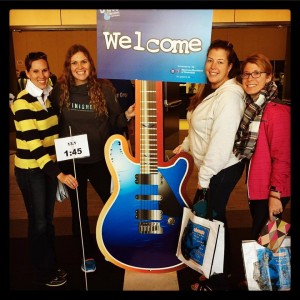 center.  Along with tech half zip race shirts each race bag contained a BB King CD, a race logo-ed harmonica and coupons for some local spots.  I then picked up my pacer shirt and 1:45 stick at the Fleet Feet booth after winding through a hallway lined with more vendors.
A late lunch at Parlor Market was next then it was back to the hotel for a little R&R.  We scanned the race guide, came up with a plan for the morning and checked the forecast yet again.  It was calling for some serious rain Saturday morning.  In addition to the possibility of getting excessively wet while running the race guide mentioned that the streets of Jackson also had some blues and we would need to be on alert for potholes on the course.  Dinner at the hotel was followed by more R&R before bed.
We all poured out of the hotel room at 6:20 for the race's 7am start to find the forecasted downpour was actually a light rain that wasn't too bad.  The race did not have corrals but went off right on time.  Begin hills.  Right off the bat the course heads out across some slow climbs that only get tougher as the miles pass by.  I was right on track at the 5k mark but didn't have anyone sticking with me as the crowd thinned out.  That turned out to be a blessing when I rolled my ankle in one of those aforementioned potholes that was masquerading as a puddle around Mile 4.  At that point I knew I wouldn't be able to hit 1:45 and didn't know what to do with no aid station in sight.
I shook my ankle out with a stop and lowered my sign.  Soaked from the rain and bent from the wind, it ended up snapping shortly after.  I carried my broken sign and fought to get back on track when I stopped at the Mile 6 water station to see if there was a way I could get in touch with the race director.  I ditched my stick and debated removing my pacer shirt.  With no option but to continue, I rolled on at a slower pace with guilt weighing heavily.
After another ankle breather walk break things took a turn for the better around Mile 7.5.  The 1:55 pacer was ahead of his time and we settled in next to each other passing Mile 8.  We chatted a bit when he told me he was looking to hit the final 5k hard.  I told him I would rock on with the 1:55 sign, taking full advantage of the chance to finish supporting other runners while protecting my ankle for the next day.  I was back in business when he handed me his sign, let me know what his watch read and took off.  Immediately I had two runners with me.  It felt great to be cheering them on as we entered the last stretch.
The last four miles were filled with more hills but my ankle started to feel slightly better with some chatting, left side of the road running and a few walking breaks to eat up time.  At Mile 10 a few runners checked in with me to see how we were doing time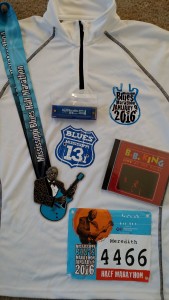 wise.  I was happy to hear everyone was well on their way to hitting their goals.  At Mile 12 a girl who had been right with me since Mile 10 started to struggle.  I stuck with her to the end and even with two short walking breaks she broke 2 hours for the first time.  Another runner, Eric, was happy to speed past me at Mile 12.5 to come in under 1:57 with a big smile.
I crossed the finish in 1:54.49.  After a rough start to the 2016 Mississippi Blues Half Marathon it was rewarding to gather a group in the last few miles and watch them succeed on such a tough course.  The rain had held off, the finisher medals are huge, the challenging course was a great workout, I nailed my second chance pacing time and by the time I showered my ankle felt almost normal.  Course support had been solid with water stops every 1.5-2 miles, Cliff shots at Mile 9 and several cheer groups.  I would have liked more music on the course, especially since this year was dedicated to B.B.King, though with the wet weather it might not have been the safest thing.  I definitely recommend this event but recommend even more being prepared for the difficult course.  Great organization, super friendly people, awesome swag and solid course support make it worth the trip.
Meredith
How do you deal with getting injured during a race?