This weekend I made my way up to Morgantown, West Virginia to take part in their second annual Morgantown Marathon and half marathon, the Morgantown Thirteener.
It was a pretty drive through the mountains to get there and I went directly to the expo.  It was small but nice with friendly and helpful volunteers.  I picked up my number, a race themed long sleeve tech shirt along with a few other race themed goodies including West Virginia Lottery scratchers off of which I won $1!  Free money!  Thanks, Morgantown.  After the expo, I was off to my hotel for a nap before dinner.
After dinner I got ready for race day, checked the forecast one more time and settled in with a little college football.  The weather guessers had been calling for 100% rain all day Saturday and Sunday but no rain happened until about 2am Sunday morning.  It was quite the downpour as I steeled myself for a wet race and fell back asleep.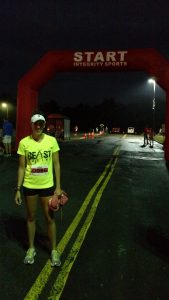 I woke up race morning to find the day had broken dry.  Yay!  There was no parking at the Start so I took breakfast with me to the shuttle.  A short ride later we arrived at the race.  I picked up my pace sign, easily checked my gear and warmed up.  There was plenty of room to run in the Coliseum parking lot which was great for those of us who didn't know the area.  A quick moving line had me through the Port-a-Potties and lined up in no time.
We went off right as scheduled at 7am on the cloudy, slightly humid morning.  After a little bit of traffic I settled right in with a small group.  We hit the first three miles right on track, walked through a well stocked water stop and rolled on.  A few runners dropped back as the hills started to take a toll around the halfway point.  A big out-and-back loop, the course is great for spectators.  I had some new runners with me as we covered the hills in reverse toward the finish.  At Mile 9 a few with me were aiming for PRs and two were first time half marathoners.  I walked through the next water stop where the group broke up.
At Mile 11 I was running alone as I had been most of the race.  Some of my buddies had fallen back while two others had taken off.  I hit the Mile 12 mark with 12.05 and 1:49.30 on my watch and was shocked when I saw the Mile 13 marker.  There was still a ways to go.  I thought I had
plenty of time to hit my goal of 1:59.50 but I was wrong.  Since I thought I had time to spare, I slowed to encourage a struggling runner in those last 800M and felt bad that by no fault of our own she wouldn't break that 2 hour mark.  I crossed the line at 2:00.22 with 13.31 on my watch.  It was disheartening.
I still managed to help several people hit PRs and was very proud of the first timers who came through shortly after I did.  The Morgantown Marathon and Thirteener were well organized with solid swag.  Rolling hills accounted for roughly 511 feet of elevation gain over the 13.1+ mile course.  They weren't too much of a factor for the half though they're supposed to be bigger and meaner over the 26.2 mile course.  It was a solid last long run before my goal race and I definitely had a good time.
Meredith
Would you run the Morgantown Marathon?  Where are you racing this fall?