Meredith's Month of Racing rolled on this past weekend with the ODU Big Blue 5k.  In it's second year, J&A put together another well organized event on a just about perfect day.  With only one speed work session behind me before race day I didn't have very high expectations heading in but still wanted to get a good workout and possibly an age group award.
With a 10:30 start, this is a great race for those who like to sleep in.  I had an easy morning and after a 25 minute drive to ODU's campus slid right into the free garage race parking.  It was filling up quickly, making me glad to arrive 90 minutes before go time.  Race day packet pick-up was crowded but moving quickly and there were plenty of Port-a-Potties in the start area.  With my number in tow, I took my gender specific tech shirt (which I easily swapped out for a men's to give to Doug since I knew I'd never wear it) back to the car, rearranged some things then headed back to the start for some warm up.
A 1k kids race was going on making it was tough to find a good spot to run more than a few meters but eventually I managed to get in a little over a mile.  The starting corrals line up down a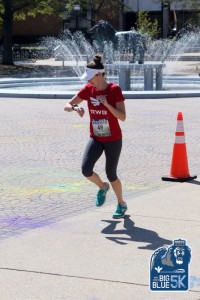 narrow street though the race's small size prevent them from feeling very cramped.  The start was right on time and the day was warmer than I had expected.  Without any real goal for the race my watch jumping all over the place (I was definitely not running a 4:47 or 9:22 mile at any point) didn't bother me too much as I settled in.
A quick right turn after the start lead to wider roads and more running room.  I got into a groove that let me know I was going to get that workout I wanted taken care of but nothing more.  The super flat ODU Big Blue 5k course weaves through ODU's campus on roads of various width and some wide clean sidewalks.  In the end, there were a few more turns than I would have liked and the about face around halfway definitely cost me a few seconds.  But it did for everyone else, too.  There was minimal crowd support on a Saturday morning college campus except for at the well staffed water stop.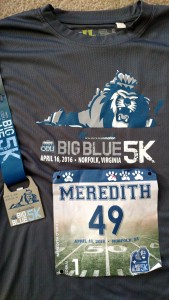 One of the race's biggest highlights is finishing on the 50-yard line.  It was neat but be ready for the surface change.  The field is bouncy and also not as flat as I expected, kind of bumpy in fact.  I cruised through the finish feeling pretty good about the run I had.  I ran 22:19 and was 7th female, the 77th finisher overall and second in my age group.  I think the late start messed with me a bit since I'm a get-up-and-goer.  My legs could have performed better and my head just wasn't in it but I successfully accomplished what I wanted for the day.  A solid workout and a bonus age group award.
In the finish chute I received an ODU Big Blue 5k bottle opener medal and a bottled water before heading to the post race party.  The beautiful day was a perfect chance to enjoy my three complimentary beers and chicken burrito from Moe's.  There were also food trucks, massive Jenga games and multiple sets of cornhole boards for everyone to enjoy.  Another well organized event put on by J&A Racing, this is a fun, family friendly race that I really enjoyed.
Meredith
Want more?  Check out my review on BibRave.