Every week I make sure my training is different than the last one.  Having variety in a training schedule is undeniably important.  I never repeat a workout more than once every two weeks and only in the case of mile repeats if that often.  Even though the exact content might change, the types of workouts I do consistent across every training week.  Each one focuses on a different aspect of improving my performance and the variety forces me to adapt in positive ways without over working one system or another.  Here's what I find on my schedule every week of training:
Long Run:  Of course the long run!  As a distance runner the long run builds my fitness base and helps me stay strong.  Because my day, or days, off change, my long run doesn't always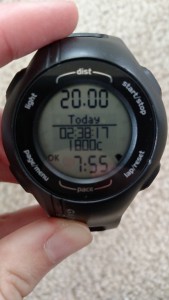 start or end my training week.  That makes it a great place to practice mental toughness when there's bad weather or I'm heading for an off day beat up.  Run at an easy pace, I'll add more than one when I'm running big mileages weeks to keep wear and tear to a minimum.
Track Work:  In complete contrast to my long runs, track days are all about beating myself up.  Every week I tackle short intervals of anything shorter than 90 seconds or 800M.  These sessions are hard on my legs, core and cardiovascular system.  The goal is to improve my tolerance for lactic acid, build VO2max and keep my turnover rate high.
Tempo Run:  This type of run trades off between race pace miles and long, faster intervals over a mile run at a comfortably hard pace.  I use them to build aerobic endurance, spending the bulk of these workouts getting comfortable being uncomfortable.  They let me know that I can push myself and keep going when I thought I was finished.  It's typically here I first notice a performance improvement.
Easy Running:  Sometimes these are called recovery runs.  I wouldn't ever say these are 'junk miles' since they help me a lot.  It's inevitable I'll be sore and tired at some point every week and these usually 4-milers keep me moving without added strain.  I run them very easy, 30-45 seconds slower than my long run pace, trying to breathe
exclusively through my nose for the entire duration to make sure it stays easy.
Yoga:  I recently started adding more yoga and meditation to my schedule.  Each morning I flow through 10 minutes of hip opening and spine loosening poses.  Every night I do at least 15 minutes to wind down my day, finishing with breathing exercises, reviewing the day and planning the next one.
Crossfit:  I Crossfit or lift heavy weights three times a week.  The strength, balance and mobility required to properly perform the movement has undoubtedly improved my running.
Meredith
What workouts are sure to include every week?  Do you have favorites?