Well, my first post injury race is in the can and it was definitely a learning experience. Saturday's Elizabeth River Run 10k far from one of my next runs but could have been worse.
Going into race morning I was concerned about how my glute would hold up. It's taken me a while to get warmed up lately and I didn't want to run for 30 minutes before I 'raced'. I spent several workouts last week trying to determine the best way to get going as fast as possible and planned on a 2 mile warm up with two longer pick-ups and some hard strides.
That didn't happen. Race morning got hot. Fast. Because it was so warm and I actually felt pretty good, I cut the warm-up down to 1.5 miles. I lined up and fought through some light traffic at the start. Around Mile 2 I noticed the temperature had gone up about 15 degrees and there wasn't much a breeze as we circled through the city. There was at least a decent amount of shade in sections. I walked leisurely through the water stops and took a breather at the 5k mark to rest my glute. It had been a long time since I ran reasonably hard for three plus miles and didn't want to irritate it.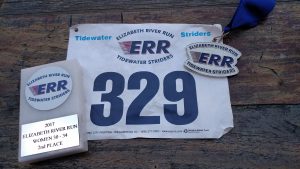 After that rest stop, my glute was doing well and the heat became more of an issue in the race's second half. When I was running I wasn't too far off my warm weather 10k pace and it felt good. Unfortunately the weather really got to me. My heart rate was sky high and not enough water stops didn't help me bring it down. The stagnant air and humidity were no help either. Coming into the last mile I wanted to pick things up a bit.
I increased my pace but had some discomfort in my right leg. Not in the mood to re-injure myself, I slowed things back down. I crossed the finish line in 48:12 feeling pretty good. My biggest issue now is getting used to being uncomfortable again. My glute seems to be 98% healed and my fear of straining it again is unreasonable. I didn't strain it running in the first place. I've spent so much time playing it safe that I'm a bit of rut. It's time to get comfortable being uncomfortable again.
Meredith
Have you run the Elizabeth River Run 10k? How do you come back from injury?