March 2017 was a solid running month for me. I raced three weekends in a row, hitting new PRs at the marathon and 8k distances while getting very close at the 5k distance. It was my best month of running race-wise in a while and I'm really happy with it.
The month started with a tune-up 5k. I had no real expectations but knew I'd perform pretty well on tapered legs. When I lined up to start the Big Wish 5k I looked at the distance on my watch but not the time. I wish I would have. Knowing my start time would have shown me that coming into the finish I was only seconds behind my best. I had plenty left and could certainly have added another one to my March PRs if I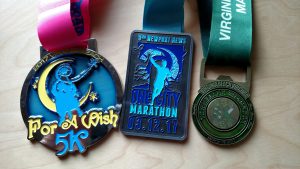 had been more aware. Lucky for me, I have plenty of 5k opportunities coming up over the next few months.
My marathon PR the following Sunday felt good. It wasn't the race I wanted to run after Mile 22 but I hit my goal and qualified for Boston. I learned a lot during this race that I'll be taking with me into my next training cycle.
My March PRs rolled on at the Shamrock 8k. While I hadn't run an 8k in years and a PR was almost inevitable, I'm still proud of my Shamrock effort. I smashed my previous best by 90 seconds five measly days after running a marathon. Imagine if my legs were fresh.
After almost three March PRs, it's exciting thinking about what I can get done this fall. I'll be racing for PRs at the half marathon, 10k, 5k and 5 mile distances. It's likely I'll count that five miler as an 8k since they're so close. I don't have a fall marathon planned but am looking forward to Boston 2018.
Meredith
Did you have any March PRs? What distance?