Located in the Ghent neighborhood of Norfolk, VA, A.W. Shucks is a great spot for lunch, happy hour or dinner.  Known for offering a massive list of oyster choices, A.W. Shucks is also home to an internationally stocked bar and a sincerely American menu that can satisfy any palate.  Doug and I shipped out to Norfolk on Tuesday evening for a few drinks and dinner we didn't have to make ourselves.  We'd been before, but not in quite a while and were in the mood to try a new beer, or four, making the choice of A.W. Shucks an easy one.
Nestled in the corner of a small office complex that is quiet in the evening, A.W. Shucks offers plenty of off-street parking in a large shared lot that was home to plenty of open spaces on a Tuesday night.  It might be a different story for Friday's happy hour, but being attached to another parking area should alleviate any issues.  Easy to access from I-64 in either direction, the restaurant's location makes visiting simple.  The trendy neighborhood is a great place to walk around and do some local shopping before settling in for a meal.  You can learn all about the Ghent area of Norfolk and everything it has to offer right here.
Entering through a covered porch that offers sort-of-outdoor seating for those brave enough
to dine in the cooler air, we walked into a spacious reception area and were greeted by a friendly hostess.  Straight ahead to our left was a long row of mostly filled wooden booths, while to the right was an equally long wooden bar lined with cushioned, rotating bar stools and a few patrons.  After spying two empty stools towards the far end, we settled into comfy seating in the dim, but not dark, bar area and began to explore a myriad of draft beer choices listed on a series of chalkboards.
While exploring the posted options, we were promptly greeted by our bartender, the lovely Hollie, two dinner menus and one two sided menu featuring beer choices on one and wine and liquor on the second.  For me it was Hollie's recommendation of the Samuel Smith's Winter Welcome Ale, for Doug it was the Smartmouth Holiday Helper and for both of us it was an order of Buffalo Shrimp.  Chatting, choosing an appetizer and enjoying our beers was easy at the uncrowded bar and our shrimp arrived before we were ready for to try a new flavor of brew.
The bright orange tail-less shrimp not only came quickly, but packed a pretty solid punch.  With a little more heat than I had prepared myself, I could smell
the warmth before I could taste it, but dove right in anyway, neglecting to dip my first buffalo shrimp into any dressing.  I immediately sated my now burning taste buds with celery and dressing and ordered another beverage, a Delirium Tremens Ale while Doug went with Weyerbacher's Merry Monks.  Both lovely, though probably not the best choices for pairing with scorching hot buffalo shrimp.
After putting away the final buffalo shrimp, we ordered dinner.  In spite of the large, fresh selection of seafood fare, pasta dishes and sandwiches adorning the dinner menu, I elected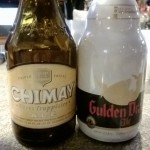 for a bacon cheeseburger and Doug went with a chicken cobb salad.  Before dinner arrived we moved on to our third choices from the extensive beer menu, a Chimany Triple and Gulden Draak Dark Triple.  The cool beers helped return our mouths return to feeling normal and we made separate trips to the restrooms.  Two large, unisex outfits across from the reception area were spacious, clean and line-less and I returned to my seat just in time for a massive burger and huge plate of salad to arrive.
We moved on to our favorite bourbon with dinner, and Hollie made perfect Bulleit and gingers for us both.  The bourbon paired nicely with my medium rare burger that was perfectly cooked, smothered in cheddar cheese and topped with crunchy bacon on a far from soggy bun.  A side of well steamed broccoli complimented my juicy burger and tasted as good as it looked.  The large plate of lettuce in front of Doug was loaded with a big grilled chicken breast and garnished with tons of bleu cheese, tomatoes, bacon and avacado.  I struggled to clear my plate, but in the end succeeded, and Doug took half of his salad to go.  We wrapped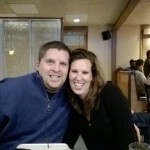 up our evening with another bourbon based night cap and headed home happy and full.
Another delicious meal in the books, A.W. Shucks is a great spot for lunch, happy hour or dinner.  Our desires to try new beers were more than met and our hunger was overly satisfied by our excellent bartender, Hollie, and her chefs.  The lengthy beer list has something for everyone and the seafood menu that also sports plenty of other proteins will leave any eater feeling full.  A great place to celebrate after a race, your protein and carbohydrate needs are sure to be met by A.W. Shucks' menu.   Put Ghent and A.W. Shucks on your must visit list and make plans to check it out today!