It's just past the middle of April and it's time for the April edition of Right Now.  I'm two weeks away from my target spring race, the Prairie Fire Half Marathon in Wichita, Kansas which will help me check off state #11.  With only fourteen days until I go after a new half marathon PR, I've started my taper and have had some time to play.  Here's what I've been watching, will be fixing and starting cooking this month.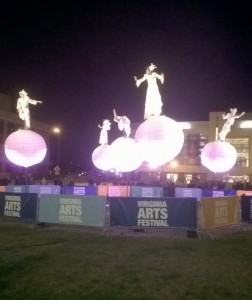 Watching.  Doug and I had a date night Wednesday to check out some of The Virginia Arts Festival that is going on right now in Norfolk.  After a casual dinner, we walked a few blocks to a grassy area for an outdoor show by Strange Fruit.  The Australian troop performed atop what essentially look like pole vaulting poles to a soundtrack that featured a variety of genres.  The weather was great and we really enjoyed watching the acrobats float through the air on their big white lanterns.
Fixing.  I'm not much of an artist but I can be pretty handy.  Working with a hammer and nails is something I can definitely do and painting isn't much of a challenge, it tends to just be tedious.  Tape, paint, tape, tape, tape, paint.  Luckily, I won't be painting any wall space that requires a roll of painter's tape.  I will be sanding and staining this plant stand I recently acquired (thank you, taper miles) this weekend.  Once I'm finished, the philodendron I'm attempting to grow will have a proper home.
Cooking.  Omelettes, and I'm not sure what set me in this direction since breakfast for dinner isn't usually my thing.  It really doesn't matter why but I'm undeniably into omelettes right now.  Egg whites with shrimp, green pepper and cheddar cheese served as last night's meal and I'm excited to play around with different fillings.
That's what I have going on right now, what about you?
Meredith
What's in your favorite omelette?  Do you fix things around your home?