I'm safely back at the beach and while I haven't been home long, after only 4 days away it feels like I never left.  Doug and I had a wonderful time in California, although I flew back yesterday and he arrives tonight.  Surprisingly all of my flights were on time and problem free despite LAX being an unexpected absolute zoo on Christmas morning.  I got home around 730 last night and while it was a little strange without a dog in the house, I managed to unpack, check email and do a little laundry before hitting the hay so I'd have plenty of energy for work this morning.
I woke up right on time for Boot Camp, and despite the 33 degree temperature, was ready to get going.  After Boot Camp, I had an hour break and went to pick up Jordy from the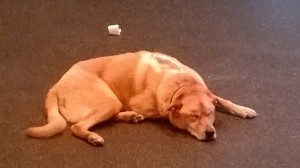 boarder (no more empty house!).  If I thought I was happy to be back at the beach, he was ecstatic.  We went for a fun walk/run around like a banshee on the beach before heading back to work for a few more hours.  Clearly, he had a nice, though exhausting time out there.  He napped while I trained and then worked out (heavy power cleans, then rowing, pull-ups and kettle bell swings).  It felt good to throw some weights around after having missed a lift day on Tuesday, but I'm ready to get back to running with my first long run in three weeks tomorrow.
After a not-so-good, dehydrated run around the Rose Bowl to kick off 2014 Shamrock training, I had a much better Race Pace 3 miler on Tuesday and walked off to do some core work feeling pretty darn good about my fitness level.  Prior to my first run, I was a little concerned about taking fifteen days off from any serious, or long, runs, but with 10 miles in the books so far this week, it seems like I took just the right amount of time to rest after my busy Fall 2013 season.  Now that I'm back at the beach, and two outings are in the books, it's time to step up Shamrock training.  To get it going, the rest of this week features a nine miler tomorrow with Crossfit and Speed Work on Saturday.
Christmas is all wrapped up, and so is the RunChat Holiday to Holiday Hunt, but my Runner's World Streak rolls on for a few more days.  Hopefully I'll close out 2013 with a photo raffle win (it won't be announced until tomorrow) and a completed Runner's World Streak.  Win or lose, I'll recap my hunt and the fun I had doing it with Saturday's post.
Meredith
Did you RunChatHunt?  How did it go?