Even though my morning routine varies a tiny bit with the seasons, the elements of it are always the same. Breakfast, yoga and some deep breathing help each day get off to a positive start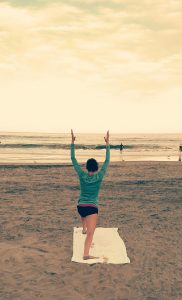 before I have a chance to get off track.
I can't remember the last time I was woken up by an alarm and am usually up 10-15 minutes before it would go off. That doesn't mean, however, I get out of my nice warm bed. I'll stay cozy while planning the day and deciding how to complete the day's check list. A quick check of my phone lets me know my early morning hasn't cancelled and I must go on. After resigning myself to the fact that I can't stay in bed all day, it's off to the bathroom. Usual business and a cold splash of water to the face make sure I'm actually awake.
Since the majority of my work and workout wardrobe is black, I rarely turn on the bedrooms lights to dress. Ambient light from the half drawn blinds is enough to make sure I match. Then it's downstairs to feed both the dog and myself. Dog food in bowl, my Cheerios in a bowl and by the time I've grabbed a spoon Jordy is ready to go outside. I eat while he does his dog thing out there then return my dirty dish to the kitchen. Now it's time to get moving.
I take a deep breath, reach into mountain pose and start my 5-10 minutes of yoga. It's at least five but ideally closer to 10. If there's a big north or west wind, I know I have to leave a bit earlier to bike to work. During my practice I'll repeat positive mantras and visualize what I'm going to accomplish that day. At this point my mind is focused and my body is ready to work. I officially check my email/Facebook/Twitter/Instagram for the first time, hop on my bike and start the day. The only time this varies is when I have a chance to take my yoga to the beach and bike first.
Why do I stick so steadfastly to this morning routine? It's made a big difference. Clearing my mind and moving my body before I let any distraction in has made me more prepared for sitting at my desk, hitting the gym for a client or tackling a workout. My focus is better, my attitude is positive and I'm ready for whatever comes my way. Even heading out for those 20+ mile runs in sub-zero temperatures wasn't so bad.
Meredith
Do you have a morning routine? What does it include?