I received my first Bulu Box last week and could not wait to try the products.  The monthly subscription service provides five sample size products in each shipment.  If you like something, they offer every sample as a full sized product on their website.  When you register you're asked to fill out a profile to help determine what samples are perfect for you which is a great way to know you'll use every Bulu Box sample, every month.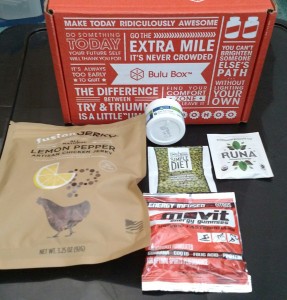 My Bulu Box contained Fusion Chicken Jerky in Lemon Pepper flavor, Movit Energy Gummies, Runa Tea, Earth's Care Anti-Itch Cream and Simple Being Dietary Supplement.
As soon as I opened the box I dove into Fusion's Lemon Pepper Jerky.  Delicious!  I had never had chicken jerky before, only venison and beef, and was very pleasantly surprised.  It was chewy like expected but not unreasonable so, perfectly flavored and smelled great.  The hint of spice doesn't become overpowering when you eat more than one or two slices which is great for someone like me who doesn't like a lot heat on food.
While I sitting out on the deck with my book Saturday afternoon a few mosquitos got their jaws in me and the Earth's Care Anti-Itch cream was a nice tool to have handy.  I wiped some on as soon as I noticed the red bump and never had the urge to itch it.  Not once!  I typically just suffer and scratch away for a few minutes but after this experience, I might invest in a little less itchiness.
Sunday morning I had a long run scheduled.  After a sleepless night, my original plans were derailed and I got off to a late start.  Luckily, I still had time to devour The Movit Energy Gummies my Bulu Box contained.  The citrus flavor was yummy.  I love a gummy and all of the nutrients the chewies contained.  The package recommends eating about 20 minutes before your activity and even though I only gave them 12-15 to kick in, I think I noticed a difference in my energy level past the 10k mark.  It was hot and I was fighting with some hydration issues that made it hard to really tell what was going on.  Looking forward to trying these again.
Not much of a tea drinker beyond the very rare Arizona Green Tea, I was a little nervous to try the Runa Guayusa Tea.  I've never steeped my own tea and didn't know how it would taste.  The Focused Energy flavor was surprisingly good.  I typically steer clear of caffeine and didn't really feel a big boost but I suspect this could be because I drank it very slowly over about 20 minutes.  I appreciate the whole foods aspect and the company's mission.
I haven't yet tried the Simple Being supplement and am not sure when I will.  Like I mentioned, I'm cautious with caffeine.  When I do feel brave enough to take it, I'll probably split the package with Doug and see how differently we respond to the same ingredients.
Aside from sending awesome samples with no shipping charges (ever) every month, Bulu Box offers cancellation at any time and a kick butt rewards program.  Each month you can earn points for sharing thoughts and reviews of the samples you received.  Those points can then be used to purchase full size products in the Bulu Box store.  How awesome is that?  Free stuff!
Thanks Bulu Box for sending me great things.  If you'd like to try Bulu Box, use discount code SWEATPINK to save 50% off a 3 month subscription.
Meredith
Do you get a monthly Bulu Box?  What other monthly sample do you subscribe to?
**I received this complimentary Bulu Box as part of my partnership with Sweat Pink and Fit Approach.  All opinions and work are my own***