I am officially a USA Track and Field Cross Country Specialist! Even though I don't coach a cross country team, I found the course incredibly valuable and it was a honor to learn from Dr. Joe Vigil, who coaches two of my favorite runners, Brenda Martinez and Deena Kastor.
The course was spread out over two days, a Friday afternoon-evening session and Saturday morning-afternoon sessions. There were 129 other coaches there with me, all of whom were equally as excited. We covered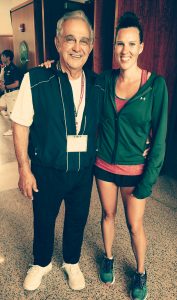 everything from team dynamics to hill workouts as well as lab sessions on the track and a short but tough cross country course on the Villanova campus. Coaches Vigil and Scott Christensen were amazing. Their combined knowledge was mind boggling and there was certainly no shortage of stories after so many championships, Olympics and runners.
During dinner the first evening I spent time with my phone plugged into one of the classroom's few outlets. It also provided me a little bit of bonus time with Coach Vigil. I was honored by his feedback and surprised to hear him say how much he loved the marathon. While I'm not sure I share the same sentiment as a runner, I definitely agreed with him as a coach. To really be successful at the marathon, you must change your life. It's amazing what can be accomplished when you give everything you've got to training.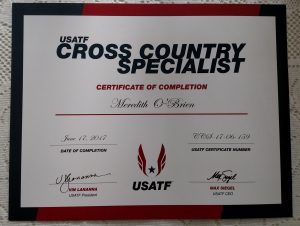 I can't wait to employ some of the training and coaching techniques I learned. As many of my runners prepare for fall marathons we'll definitely have some cross country inspired fun. If you coach, just want to become a better runner or learn from the best, I highly recommend taking this class. I am definitely a better coach because of it.
Coach Meredith
Have you ever run cross country? What do you like most about it?