My month of racing wrapped up as I finished my four straight weeks of 'racing' with the Coastal Delaware Half Marathon.  It was nice to wrap up the first week of my new training cycle by leading the 1:55 pace group of awesome runners to both hit new PRs and follow their coach's orders by taking it easy.
I stayed Saturday night in Bethany Beach, a roughly 10 minute drive from the Start area.  Race morning was chilly and breezy but my car was warm for the quick and easy drive.  The Coastal Delaware Half Marathon pace team was rounding up at 6:15 and I arrived with plenty of time to spare.  We snapped a group photo then those of us waiting for the half to start at 7:30 headed back to our nice warm cars for a while.  When the marathon took off at 7, I downed a banana and a granola bar then hit the long row of Port-a-Potties that had quickly moving lines for a final pre-race go before the 9k runners started prepping for their 8am event.
I was in Corral 1 as we were given the go at 7:35am.  The course took us immediately through a quick u-turn then into the out-and-backs northbound portion into a 10-12 mile an hour headwind.  The wind wasn't bad considering what I usually have here in Virginia Beach and a small group settled in with me by Mile 2.  The first water stop was at Mile 3, stocked with water and Gatorade.  We continued north to another water stop at Mile 5.5 before turning onto the soft gravel trail portion of the race where we hit 10k, made our out-and-back u-turn southward, ran past the halfway point and and entered road again past the Mile 7 mark.  I expected there to be some water coming up quickly at that point but there wasn't.
The next stop was all the way at Mile 8.5 and I wasn't the only one who suffered.  One of the guys who had been sticking with me, aiming to break 1:55, got a nasty cramp around 7.5.  Since we were solidly ahead I sent everyone else on while I hung with him to stretch for a second.  At that point we also got held up in a politeness battle with a car trying to cut across the course. Once the 'you go'/'no, you go' ended with some help from the awesome police department we got back on track.
Continuing onto the course's westerly loop for Miles 10 and 11, we were dead on to hit 1:54 and change.  Two little jogs had us through Mile 11 as we were right on track heading into the final 2400M.  Somewhere in those last miles we picked up almost an extra 200M and I ended up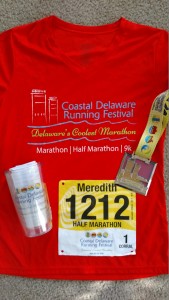 cheering him on as he surged for a strong finish as I rolled alone in a few seconds late.  As I crossed the line four of my group were waiting for me and it was an honor to shake their hands and hear their 'thank you's.  Several hit new PRs way under 1:55, from 1:52 to 1:54.
We all received stained glass medals, bottled waters and granola bars before heading to the post race beach party and grabbing mimosas.  I wish I could have stayed for the post-race party, it looked like it would have been a great time.  Instead, I grabbed the constantly running free shuttle bus back to the parking lot, about 3/4 of a mile away, so I could shower and get on the road.
The course is flat and fast, a good opportunity to PR and/or BQ as long as you don't mind a complete lack of crowd support or a missing water station.  Held in the town's off season, there aren't many spectators out there supporting until the finish line.  If you want good swag though, the Coastal Delaware Half Marathon's is fantastic.  Not only do you get gender specific tech t-shirts, a medal with stained glass and a post race beach party, this year we also received a Tervis brand race logo tumbler.  I love my Tervis gear and was so happy.  The gift might be different next year but this well organized event is definitely a race worth checking out.
Meredith
Have you run in Delaware?  How do you use Tervis gear and do you love it?