In the first week of Unbeatable Mind training I filled out a form that featured both three month and eighteen month goals along with the steps I would take to accomplish them.  One of those goals was to launch my new running enterprise, East Coast Run Project.  I'm really excited about it and can't wait to help more runners reach their goals each year.
Here's a little more about what East Coast Run Project is:
East Coast Run Project is the ideal training program for any athlete looking to improve their running skills.  Whether you're working towards a BQ or running the bases more efficiently, ECRP will help you achieve your dreams.  Using a completely customized individual plan based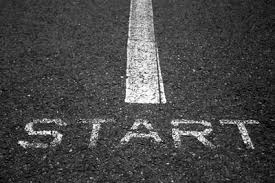 on your specific goals East Coast Run Project will guide you to success.  Key elements of each plan include sport specific training, strength training, mobility work and building mental toughness.  With a focus on hard work and understanding the value of each workout session, ECRP is the guidance you need to reach any running goal you have.
That's what I'm excited about.  Supporting people who are willing to work hard and know that not every day is what you expect but continue to fight for their dreams.  Getting the Project launched was a challenge for me.  I am a list person.  I make a list each morning of what I need to accomplish for the day and love seeing all the things I've crossed off by dinner.  East Coast Run Project was on my list for quite a while.  I struggled with getting organized, figuring out what I wanted the brand to look like and how I would balance it with my personal training clients and blogging.  Something as simple as writing down the specific steps I would take to launch ECRP got me quickly to where I felt comfortable putting this new brand out in the world.
Meredith
I'd love for you to check out the East Coast Run Project website, follow on Twitter and 'like' on Facebook.  Thanks!!!