I raced one of my favorite events of the year last weekend, the EquiKids 5k. Not only do I love volunteering at the farm, racing through the trails each year is always fun. The cross country 5k is preceded by a 1 Mile Run with the Hounds that Jordy was more than happy to participate in before hamming it up for the camera.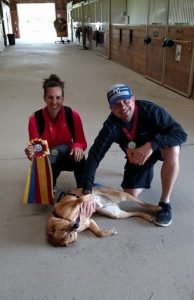 It's the only cross country course I'm guaranteed to run every time it comes around and I usually don't perform well. Maybe it's because I don't train on trails very much if at all or because I get too distracted by all of the adorable kids, dogs and horses. Any way you slice it, I was looking to turn my history of EquiKids 5k performances around this year. I didn't.
In spite of finishing as third overall female, it wasn't a good race or even the race I wanted to run. Due to some serious rain my schedule got a little screwy in the days before the race. My final workout was hours later than it should have been. I definitely could have been fresher at the start line but I also could have been less injured.
My glute injury is feeling much better. It has had some unexpected side effects, however. The different, more powerful, movement in my right leg has been leading to extra work for my right Achilles. That has caused some definite stress on the tendon as it strengthens. I ran a one mile warm up before toeing the starting line but failed to warm up as completely as I usually do because I was feeling fatigued. Little did I know I'd pay for it. About halfway through the race that right side felt like it was about to snap. No, thanks. I paused to rub it for five seconds then continued on. It was a scary moment but felt fine the last 3k.
It was disappointing to realize I'm not where I thought I was in terms of bouncing back. I understand the lumpy, muddy, ankle working course probably made things a little bit worse in that ankle. That doesn't make it feel any better. The EquiKids 5k curse continues and I'm looking toward next year already.
Meredith
How often do you race on trails? Love it or hate it?