My favorite race of the year was Saturday and all mud aside, it was another fun day.  This was the fifth year consecutive year I've run the EquiKids Cross Country 5k.  It's an event for the whole family with a half mile pony run for younger children, the 5k for everyone and a one mile run with the hounds.  I was excited even though I knew it was going to be muddy after five straight days of rain.  Trails, especially muddy ones, are far from my strength.
Race morning was overcast (but not raining!) with a little bit of humidity and middle of the road temperatures.  I went with long tights because of the mud, knowing I'd been running as close to the edges of the trails as I could for solid ground.  After my warm-up, I shed the half zip I'd been wearing against the morning's cool breeze and lined up in my tank, long tights and about-to-be-muddy shoes.  We went off into the woods a few minutes after the little ones finished their half mile pony run.
There were the initial speedsters making the first section a bit crowded but they faded by the time we hit the woods.  I settled into an easy pace on the mushy surface and waited for my first foot to hit a puddle.  It took longer than I expected to find the first muddy spot.  Not being very skilled at racing through the mud, I slowly picked my way through with tiny, slow steps and picked things up when I was back on solid ground.  At the Mile 1 mark I had plenty of running room as the crowd spread out and it stayed that way through the end.  My watch was all over the place searching for help as I wove in and out of the trees with neither of us really knowing how fast I was moving.  I slipped a few times in mud, at one point swinging around a tree to help, glad I was taking things slowly instead of risking injury in an unfamiliar environment.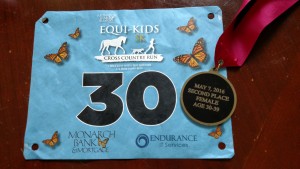 I kicked as much as I could on the wet ground coming into the EquiKids Cross Country 5k finish and landed squarely in a big puddle of water.  It was a nice finish to a solid workout that had me smiling and working to stay balanced the whole time.  Definitely not one of my best 5k performances, I was happy to come out without having fallen in the mud or getting injured.  I ended up fourth female overall and second in my age group after the overall female was also the age group winner.  A bottle of water and two slices of pizza later, I was awarded my medal and made for the nice dry car.
It was another great year with weather that held out until after the dog mile, great people and good times.  In the end, 2016's mud laced EquiKids Cross Country 5k taught me that I could probably benefit from hitting the trails more often.  With only one trail race and five or six easy trail outings per year, I tend to be overly cautious with my feet and also have lots of trouble feeling my pace on the soft surface.
Meredith
How do you run in mud?  Do you train specifically for trail races?