This is my very first WIAW (What I Ate Wednesday) post and to be honest it's only one meal.  I threw some things in my fridge together for dinner, making it up as I went along.  I've shared some recipes before but not since I've cleaned up my eating and started to really pay close attention to what I'm putting in my body.  So I guess this is really a recipe post that happens to be on a Wednesday.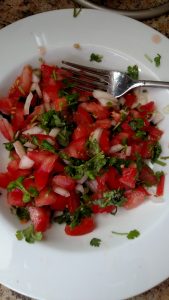 Grabbing a few things in my kitchen, I put together a quinoa, flounder, pico de gallo meal that was clean, healthy and filling.  It was very simple and took about 20 minutes to prepare.  After starting one cup of quinoa with water on the stove, I seasoned the flounder with crushed red pepper and lime.  I let the quinoa boil and fish marinate while I chopped onion, tomato and home grown cilantro for pico de gallo.  This was my first time making pico de gallo and I was excited to use ingredients I had grown myself.  My dicing skills will definitely benefit from some practice!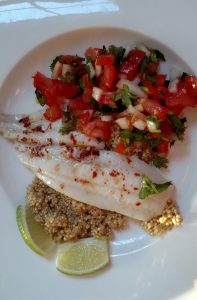 I started to pan fry my flounder as the quinoa was finishing and it only took 4 minutes to be ready.  When I pan fry, I use a big wok or frying pan and extra virgin olive oil.  I prefer that over a cooking spray since it's a healthier choice.  Once the fish was to temperature, I took it off heat and let it rest for a minute.  I served the fish over quinoa with a massive side of pico and two slices of lime.  It turned out hotter than I expected but was very tasty and filling.
I really enjoy the cleanness of simple recipes like this.  They're easy to make with fresh, good for you ingredients and are practically impossible to mess up.
Meredith
What's your favorite WIAW?  How often do you share recipes or meals?