My spring race season is a few weeks old and my fall training cycle isn't coming up too quickly.  This no man's land of heat and humidity is the perfect time for me to be in maintenance mode.  I'm taking the work I do seriously but trying new things and exploring different kinds of workouts.  The low pressure, maintain but not test myself thing is new to me but two weeks in, it seems to be panning out OK.
I'm a competitive person.  I like to improve, beat my old PRs and place in my age group but I realize that constantly trying to be at the top of my game is exhausting.  Taking a break from intense training weeks gives my body a real chance to recover and heal, getting both stronger and faster.  My training isn't based on periodization but is a modified to my preferences and psychosis Crossfit Endurance program.  Drop a long run?  I just can't do it.  I tried.  It went badly.  I'm in race mode or I'm not and right now, I'm in maintenance mode instead.  In this year's maintenance mode, I'm running an average of 25 miles a week made up of a short interval run, a long interval run and a long run.
I've had fun taking some of my long runs to the sand and choosing to do a long interval session on the treadmill.  The fun continues with my strength training during these lower mileage weeks as I work on adding strength and power to each of my running steps.  I'm enjoying my maintenance mode more than I thought I would and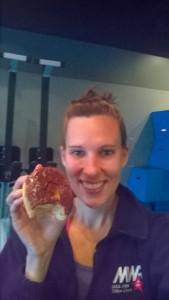 expect when I hunker down for my fall races I'll see some improvement across the board thanks to my stronger body.
But, even as I'm taking my training easy but still seriously, I am giving myself a little summer fun leeway on my nutrition.  Have to have some fun!  Here I am after this morning's rainy 400M repeats on the Boardwalk, half into a brutal 15mph headwind, indulging in National Donut Day with a Dunkin Donuts chocolate glazed.  That poor donut didn't stand a chance.
Have a great weekend!
Meredith
Do you break up training cycles with a maintenance mode?  Did you enjoy a donut today?