This is my first official Friday Favorites post!  I usually do a Fit Friday, pre-race wrap up or Right Now post to break in the weekend but felt like mixing it up this month.
The Lilly Pulitzer Linen Beach Pant Not only is the Red Right Return pattern lots of fun, the pants themselves are light and very comfortable.  They're a perfect cover up when heading to the beach or hanging out at home with a wide drawstring waistband and plenty of length.  Cleaning up after a hot, sticky run feels great.  Slipping these Friday Favorites comfies on for a solid foam rolling and stretching session after that shower feels even better.
Ready to Run, Dr. Kelly Starrett

I first heard of Kelly Starrett and his Mobility WOD website when I starting Crossfit.  A big part of functional fitness, and solid injury free running, is proper range of motion.  It's impossible to build strength safely when you can't move fluidly through the movement.  As I work to perfect my running form, keep my cadence up, get faster and more powerful, I realize each day how important it really is.  My tight calves don't help my back squat much and take away running power.  In Ready to Run, Starrett outlines 12 standards that will help you determine if you are, in fact, Ready to Run and how to get there if you're not.  I've definitely seen a difference since working towards the standards I don't already meet and can't wait for some cooler weather to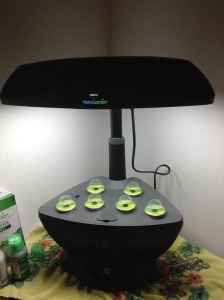 race in!
Miracle-Gro Aerogarden
The third of my Friday Favorites is my brand new Aerogarden!  I've planted lettuce and mini tomatoes to start with herbs to follow after these seeds have been exhausted.  The light is brighter than I expected bouncing off the white walls of the corner I placed it in but I've set the lights to turn on at 5:15am and off around 11pm in hopes that it won't bother anyone or any dog.  I'm excited to be able to grow these vegetables indoors since we don't have a good flat outside spot for a garden but we do have a few cottontail rabbits living under the shed.  I can't wait to make a nice fresh salad with what pops up and there will be plenty of pictures to follow the journey.
I don't have any big plans this weekend other than a nice long run tomorrow and sleeping in on Sunday.  It's been a while since I've had a quiet weekend and I'm looking forward to relaxing by staring at my seedlings until they sprout.
Meredith
What are your Friday Favorites this week?  Any big weekend plans like a race?