Wednesday is National Running Day.  At least it used to be.  Starting this year it's Global Running Day or World Running Day and that's just fine with me.  Everyone who loves to run, no matter how fast or slow, short distance or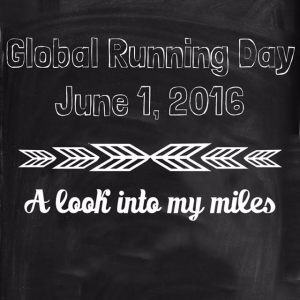 long, should have an opportunity to share that passion with others.  In accordance with that opportunity, I've joined a fun link-up where a group of Sweat Pink bloggers will be sharing our feeling with you.  You can check out all of the great responses here, on Kristen's blog, JonesInForaRun.
Why do you run?  Lots of reasons!  It's fun, it helps me relax, it's a place to make friends, it challenges me and pushes me to see what my body can do.  It's an excuse to be outside and appreciate the weather, no matter what it is.  Sometimes I run for those who can't and sometimes I run to clear my head.  No matter what the reason, I'm always happy at the end.
How do you plan to celebrate National Running Day?  I'll be attending J&A Racing's Global Running Day Celebration and racking up a few miles with a bunch of my best running friends before enjoying some food and drink.
How many miles have you run so far this year? Do you have a mileage goal for the year?  As of May 30, I have run 517 miles with no mileage goal for the year.  I think having one two years ago actually hurt my training because it made me feel pressured to get in a certain number of miles each week instead of listening to my body and following a flexible training plan.  My goals in 2016 are quality workouts and faster races.
What big events do you have on the race calendar so far this year?  I finished my first marathon even though it wasn't pretty and am looking towards new PRs at 5k, 10k and the half marathon distances this fall
Before I leave for a run I must have:  Water.  I can do without shoes, a watch or a tank top.  I can run in a bathing suit or sunglasses instead of a visor.  Fasted runs have their place, too.  What I can't live without is water.
Do you track your runs? If so what do you use?  I track 97% of my running using my Garmin and Garmin Connect.  The ones that get left out are the repeats included in Crossfit workouts and watch-less recovery outings.  I'll guesstimate those miles and add them on but I'm not picky about it.
Who is your favorite running partner?  It varies.  Because of my work schedule I run the majority of my workouts alone.  I really like running with the sunrise or sunset but any of my running friends are just right.
What races have you run so far this year?  Mississippi Blues Half Marathon, First Light Half Marathon, One City Marathon, ODU Big Blue 5k, EquiKids 5k, Coastal Delaware Half Marathon, Hot Chocolate 15k and Rock the Parkway Half Marathon.
If you have to give someone one piece of advice about running, what would it be?  Have fun.  Appreciate that you can run when there are lots of people who can't.
Describe your relationship with running in one word:  Perfect.
Meredith
How are you celebrating Global Running Day?