Spring has sprung and as temperatures warm up the sandy of a beach looks more and more appealing for everyone.  Runners especially can benefit from hitting the beach.  Sand running is a great tool to get faster, increase strength, see some fresh scenery or stay cool on a hot day.  There are lots of types of sand, from packed wet sand to deep fluffy sand but no matter which one you choose, there are big benefits to be had.  Here are five great reasons you shouldn't overlook those early morning or evening hours when it isn't too crowded to get a workout in.
Strength.  With or without shoes sand running is a good way to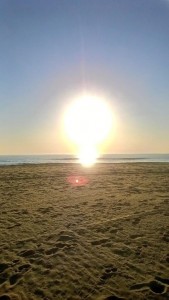 earn stronger ankles and feet.  The uneven surface forces your body to respond in ways it doesn't have to on the road or track. Your core has to work harder to maintain balance and large muscle groups are given an extra challenge.  For even more ways the beach makes you stronger, check out this list.
Cadence.  The best way to get anywhere in the sand is with short, quick steps.  Practicing this higher cadence by running faster in the deep sand will help you see improvements back on the road.  Give it a try by running as fast as you can 2-3 time with rest in the sand then slide your shoes back on and repeat on the road.  Instant gains!
Stay Cool(er).  A hot summer day is hot no matter where you are but being next to the water certainly helps.  Running in the surf keeps cool water running over some of your body at all times and the ocean breeze will likewise aid in preventing overheating.  Be wary of strong winds and plan your run accordingly.
Scenery Change.  Take things easy.  You're already working harder than you would on the road, trail, track or treadmill.  Enjoy what nature has to offer and use sand running time to have some fun.  Try remembering all of the birds you saw or stop to watch the sunrise/sunset for a minute between repeats.  Unless you live down the street from a shoreline, get the most out of each experience.

Be careful.  Make sure you have a way to stay hydrated when you're out there on a sunny, warm day.  Take a water source with you or put a bottle at your turnaround point.  Check tide tables and run a low tide, making sure to stay even by running an out and back course on the slanted surface.  Watch for holes, shells, other beach debris and rough patches of packed sand that can cause blisters and abrasions.
Take these tips on your next trip to the beach and reap a few of these big benefits from sand running.
Meredith
Do you run on the beach?  What's your favorite thing about sand running?