It's New Year's Eve eve, which means we're less than 36 hours away from 2014.  After summing up my Holiday to Holiday RunChatHunt with Saturday's post, I've started my second week of Shamrock training, made plans to welcome 2014 and prepared for the Hokie's Bowl Game tomorrow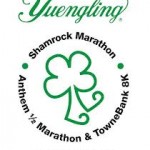 .
This is week two of my 12 week training plan for my first half marathon of 2014, and I hope to set a new PR by breaking the 1:40:00 mark.  I set my first PR of 2013 at this race last year, and I would love to repeat!  Here's how this week's workouts shape up:
Monday – 45 minute tempo run, a really good six mile tempo run 🙂
Tuesday – Crossfit cross training and New Year's Eve, which I'll discuss in a moment.
Wednesday – Easing into the 2014 with a 3 Mile Race Pace run.
Thursday – Back to Crossfit between clients in the morning and a dose of speed work (400M repeats) in the evening.
Friday – Long run!  10 miles on the calendar.
Saturday – Third cross training of the week and an easy 5K.
Sunday – Rest, and the Eagles playoff game (yay!).
Now, about those New Year's Eve plans.  I'm not one for big parties with tons of highly intoxicated strangers and $200 per person seats, unless it's for charity, which means New Year's really isn't my gig.  I'll be spending the hours between 2pm and 5pm glued to the TV watching the Hokies battle the Bruins, likely enjoying an adult beverage, but I won't be hitting the hay that early.  Doug and I will be heading out to check out the ChristmasTowne light display on its last night at Busch Gardens in Williamsburg.
Wednesday will be a nice relaxing day off, except for that 3 miler, and I'll be sure to post pictures of the lights while I fill you in on some of the things I'm looking forward to in the new year.  2014 looks to be a good one, and I can't wait to share it with you.
Meredith
What are your NYE plans?  Are you starting 2014 by running on New Year's Day?